Itinerary Download
|

Share with friend
行程亮点:
【单程高铁体验】,节约时间同时欣赏丽江沿途风景。
游缆【喜洲古镇】,有着千年历史的白族历史文化名镇。
打卡【转角楼】特别赠送每人1支同款网红转角楼冰棒
漫步在【洱海生态廊道】体验醉美洱海旅拍和品尝下午茶慢时光
壮丽的【虎跳峡】由怒江削蚀而成,两侧悬崖峭立,巍峨险峻,令人惊叹
朝圣藏传佛教的圣地-小布达拉宫【松赞林寺】
乘搭中国海拔最高的【玉龙雪山大索道】,全长 2900 多米,前往海拔 4500 米的冰川公园
观赏由中国著名导演张艺谋执导的原生态大型实景演出《印象丽江》
游览【丽江古城】和保存完好、独具"小桥流水人家"特色的古城四方街
Tour Highlight
Take a high-speed train back to Kunming, enjoy the beautiful scenery along the journey
Xizhou Ancient Town It's a thousand-year historical Bai ethic ancient town
Check-in at the Corner Tower and You will also get to enjoy one complimentary famous ice cream
Wander through the Erhai Lake Ecological Corridor, experiencing photographs capturing, and savoring a leisurely afternoon flower tea.
Visit Tiger Leaping Gorge enjoy the roaring river rushes with great force and turbulence
Visit Ganen Sumtseling Monastery, the largest Tibetan Buddhist temples in Yunnan
Complimentary <Impression of Lijiang> performance directed by ZhangYiMou
Jade Dragon Snow Mountain Scenic Area: Glacier Park with cable car ride
地道特色料理
特别安排百年老店福照楼老滇风味
宜良烤鸭
砂锅鱼风味
过桥米线
雪山火锅
纳西精品土菜+打跳
Specialty Meal
Fuzhaolou 'Ancient Dian' Flavor
Yiliang Roast Duck
Clay pot Fish
'Cross Bridge' Rice Noodle
Snow Mountain Steamboat meal
Naxi Tribe Feast
丽江拉市海湿地公园-候鸟湾景点特色: 每年黄金观鸟期11月至次年3月,在这里,吹着"海"风、晒着太阳,沿着"海"岸欣赏候鸟可爱的身姿,与其一起嬉戏玩耍。每年3-4月春风吹来了盛放的桃花之海。夏秋季节,便是湿地公园最斑斓的时候,蓝天白云,映衬着碧波荡漾的湖水
昆明KUNMING
大小石林风景区Stone Forest Scenic Area (including of tram ride)
大观楼公园Daguan Park
金马碧鸡坊Jimabiji Pavilion
南屏步行街 Nanping Shopping District
大理DALI
洱海生态廊道 Erhai Ecological Corridor
大理古城+洋人街 Dali Ancient City + "Foreigners Street
喜洲古镇 Xizhou Ancient Town
喜洲白族民居三道歌舞表演 Dali Bai tribe3 cups of tea dance show
丽江LIJIANG
拉市海湿地公园Lashihai Wetland Park
丽江古城+四方街Lijiang Ancient Town and The Square,
黑龙潭公园 Black Dragon Pool Park
玉龙雪山风景区 Jade Dragon Snow Mountain Scenic Area
蓝月谷Blue Moon Valley
玉水寨Jade Water Village
中甸 ZHONGDIN (香格里拉 SHANGRI-LA)
长江第一湾 the First Bend of Yangtze River
虎跳峡 Tiger Leaping Gorge
独克宗古城 Dukezong Ancient Town
龟山公园 Guishan Park
松赞林寺Ganen Sumtseling Monastery
IMPORTANT NOTES
备注:
顾客尤其需注意以下事项:在公司无法控制的情况下,行程可能更改。
Revisions, if any, in itinerary are subject to the Company's Terms and Conditions.
In particular, the Customer is requested to note the following:
Itinerary may be subject to change due to circumstances beyond the Company's control.
Accommodation in designated cities is subject to room availability.
Sequence of itinerary may be subject to change.
Different tour groups may be merged.
Proposed changes, if any, that are not accepted will be subject to the refund provisions set out in the Terms and Conditions.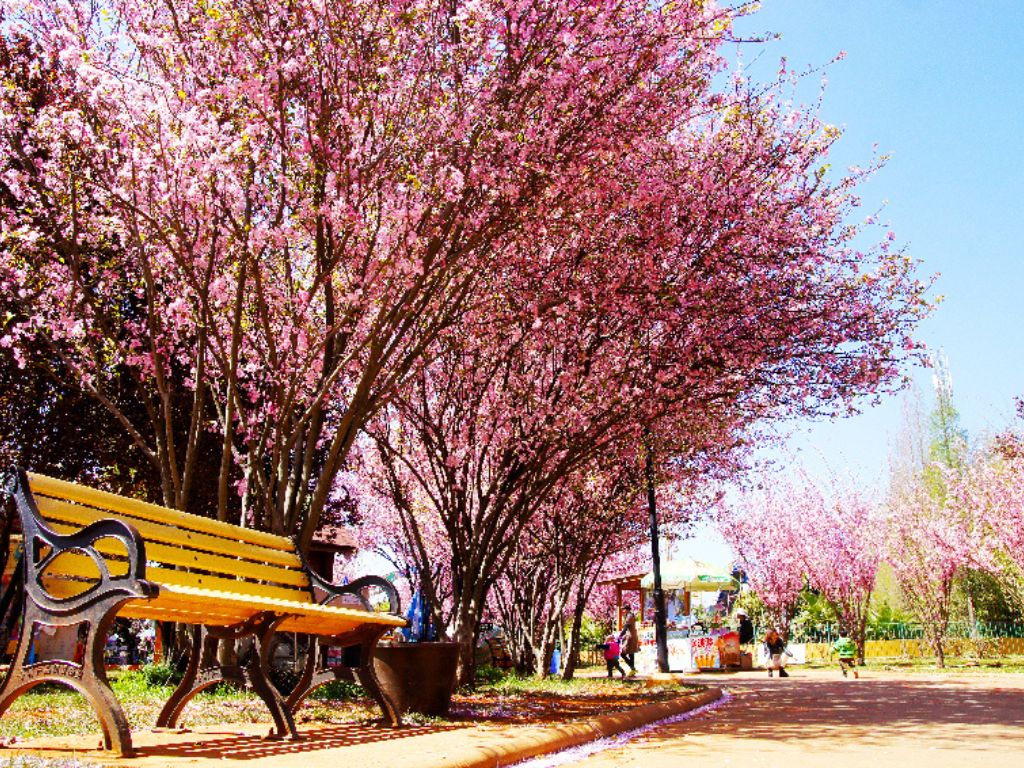 Assemble at Kuala Lumpur International Airport for your flight to the provincial capital of Yunnan– Kunming, also known as the spring city. Upon arrival, check- in hotel.
H: Hongshanhu Hot Spring Hotel or SML

Meals On Board / Dinner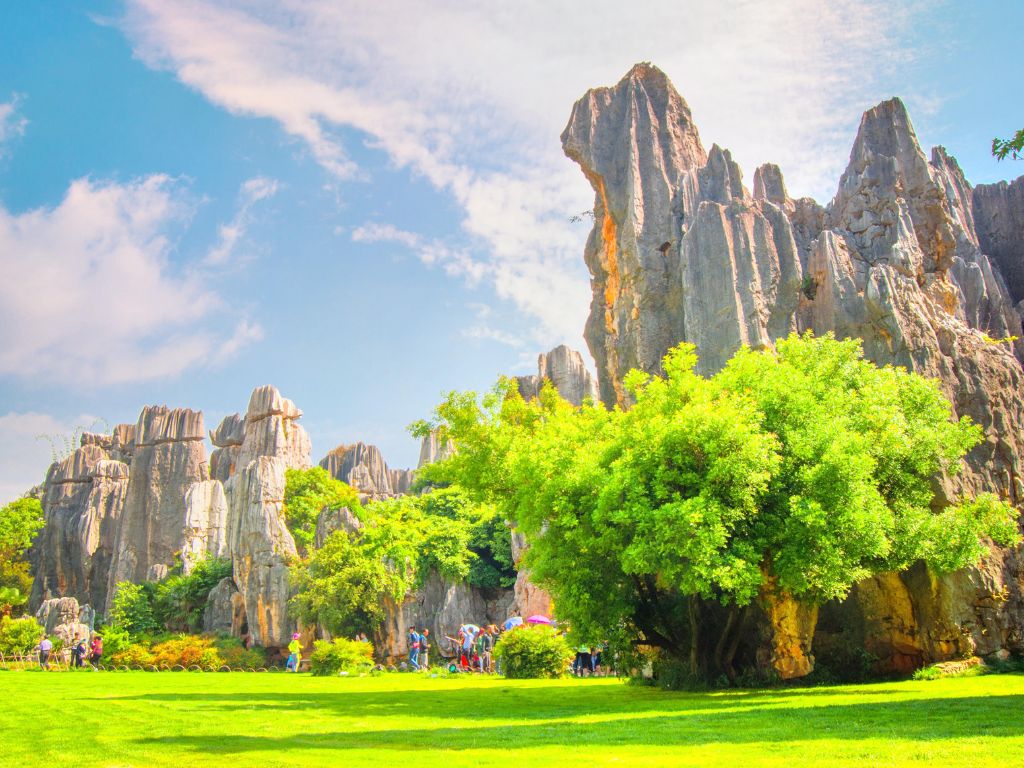 大小石林风景区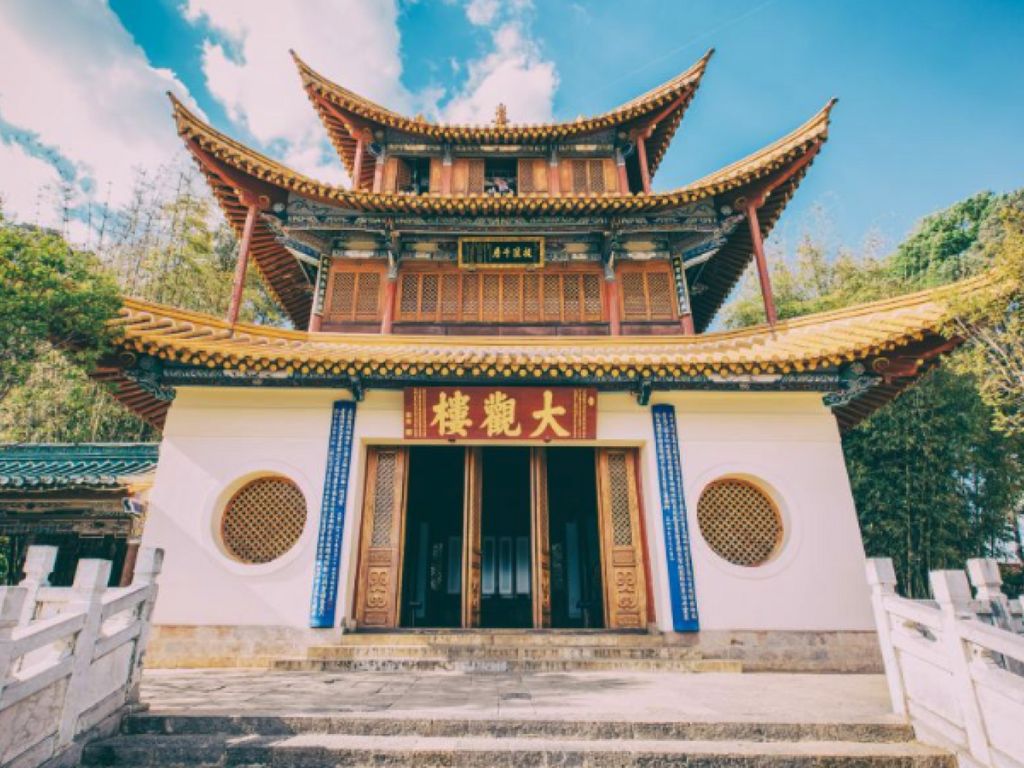 大观楼公园
After breakfast, visit Stone Forest Scenic Area (including of tram ride). The stone forest was made up of limestone karst, the rocks experienced crustal changes through erosion over many years, and combined with countless of erosion by wind and rain, forming pinnacles, columns, stalagmites and stone buds, thus creating the present stone forest. Next will visit Daguan Parka famous Chinese building in Kunming renowned for its long colonnade, you can experience different flower seasons throughout the year. These include the Lotus Season (July-August), the Golden Autumn Chrysanthemum Exhibition (September-October), and the Winter Red-Billed Gull Season (November-December).
Note: The flowering seasons may be adjusted based on the weather conditions
H: Golden Eagle Hotel or SML

Breakfast / Lunch / Dinner
洱海生态廊道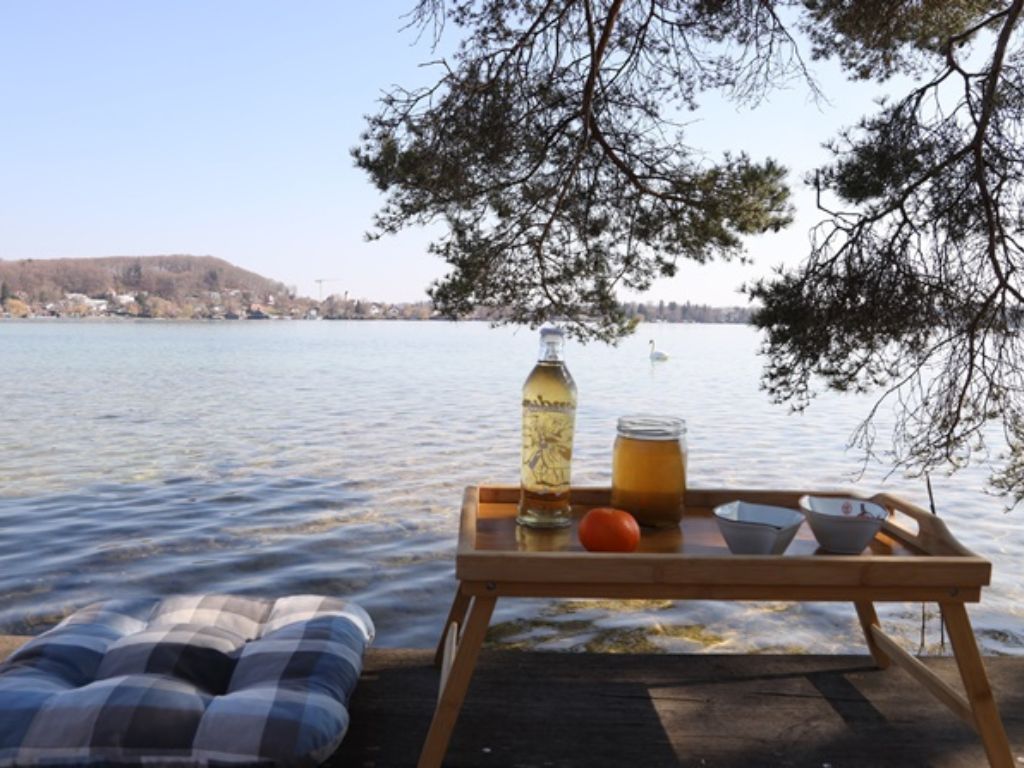 独家安排在洱海边享受下午茶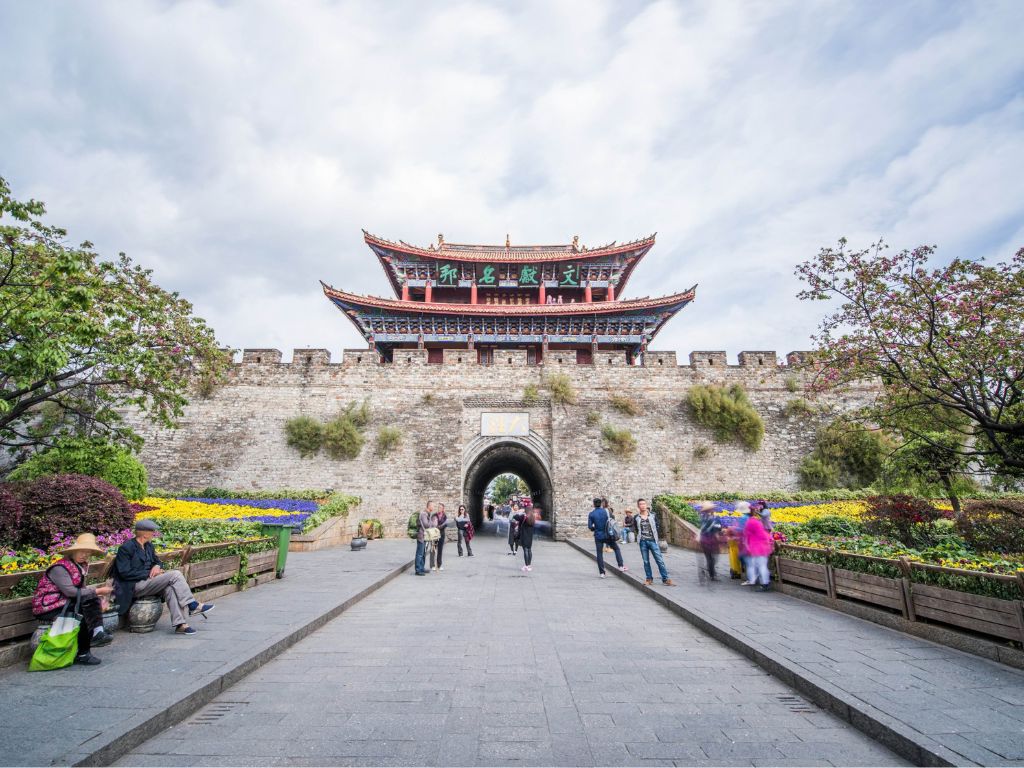 大理古城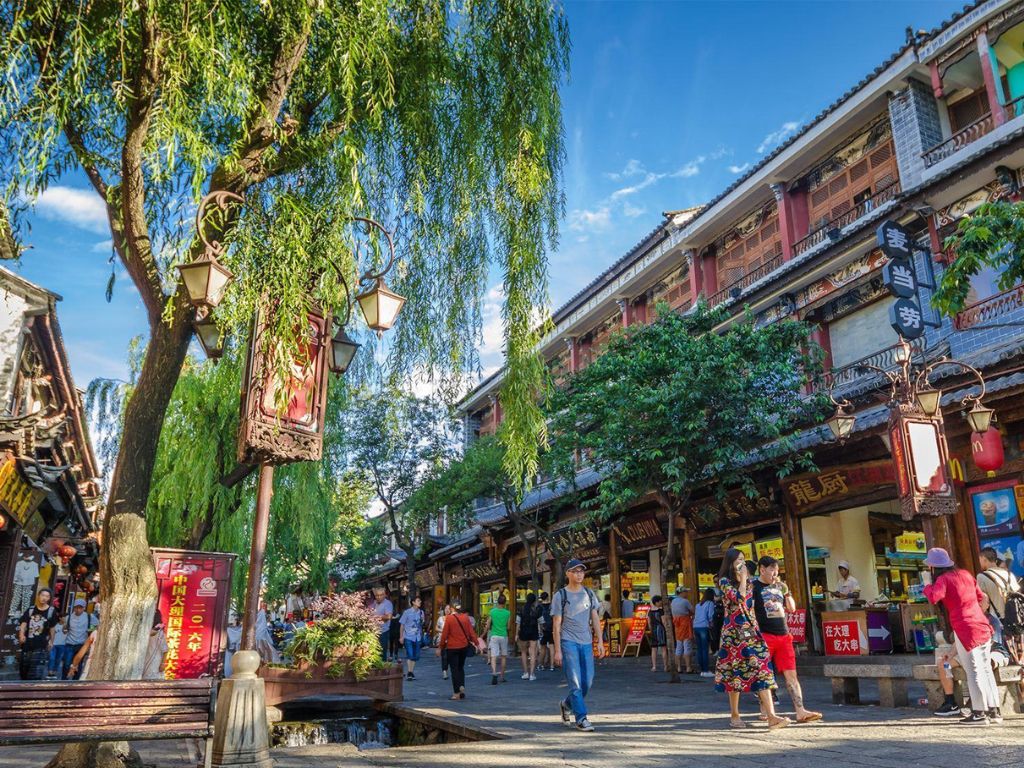 洋人街
After breakfast, head to Dali, renowned for its famous Four Scenes. Upon arrival, proceed to Erhai Ecological Corridor to experience the enchanting beauty of Erhai Lake with a photo session using a Jeep car (including a battery-powered car ride along the corridor). Three photos per family will be taken with trendy props such as "Sky Realm," "Glass Ball," and "Stairway to Heaven" exclusively arranged. Afterwards, enjoy an afternoon tea-time at Erhai Lake, with each person being served a cup of flower tea and a dessert platter. After Lunch, tour the Dali Ancient City that has more than 600 years of history (excluding of tram ride). The ancient city has attracted lots of foreigners from different countries, hence has formed the famous "Foreigners Street".
H: Dali Tang Zhonghefang Hotel or SML

Breakfast / Lunch / Dinner
喜洲古镇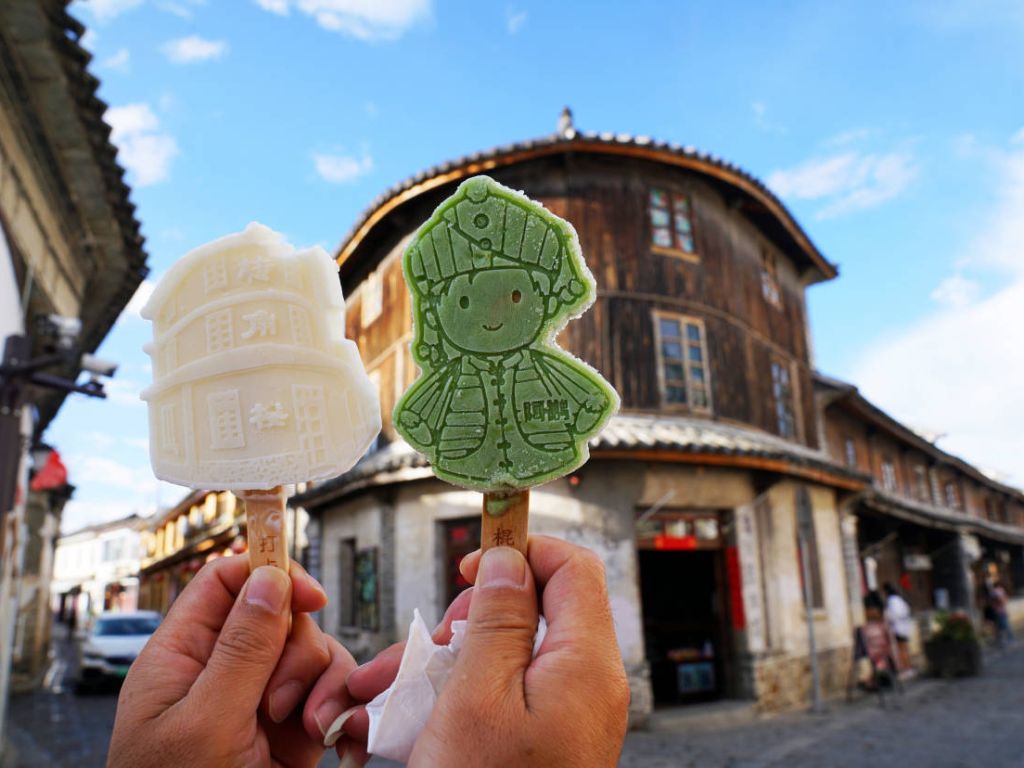 特别赠送每人1支同款网红转角楼冰棒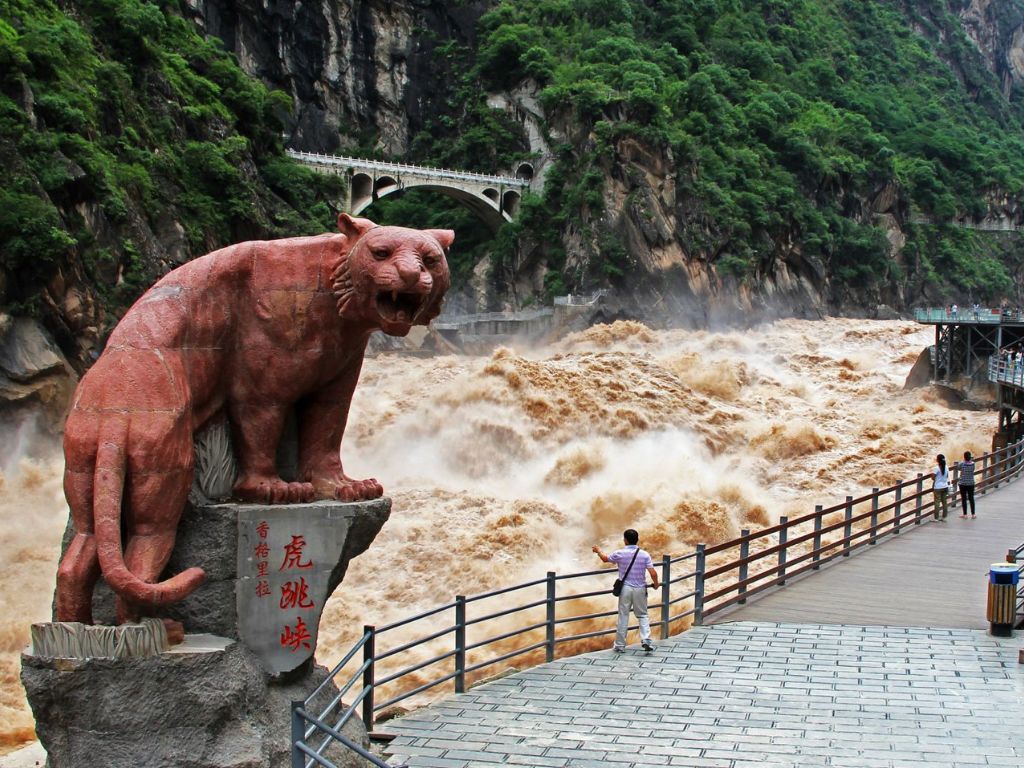 虎跳峡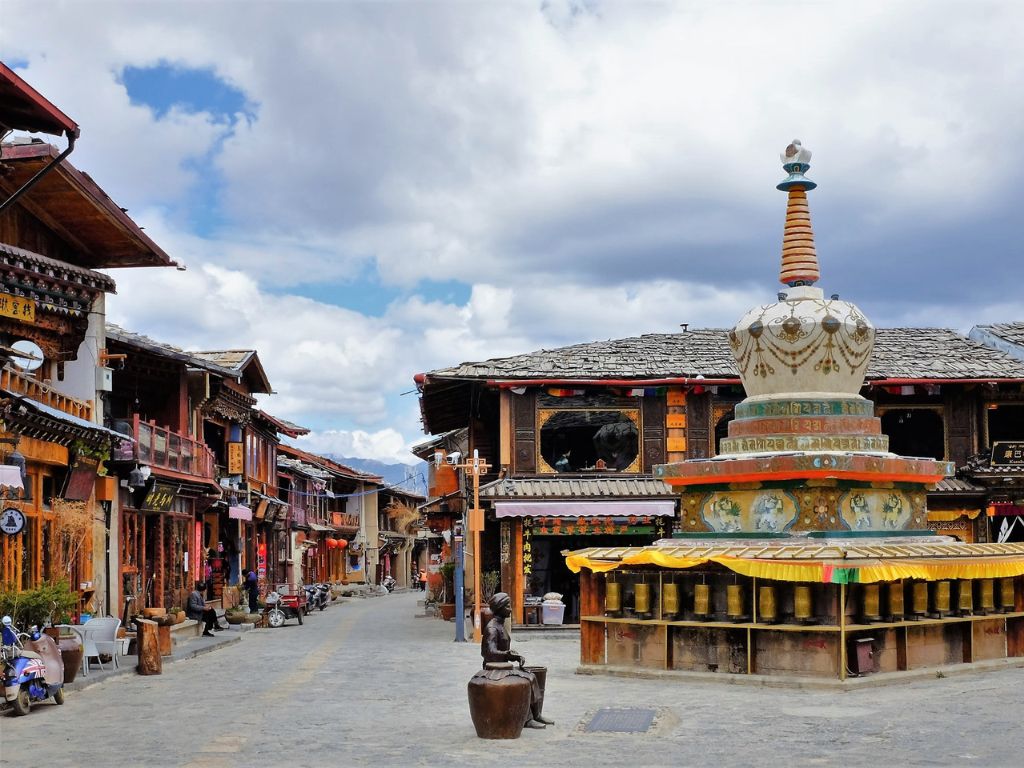 克宗古城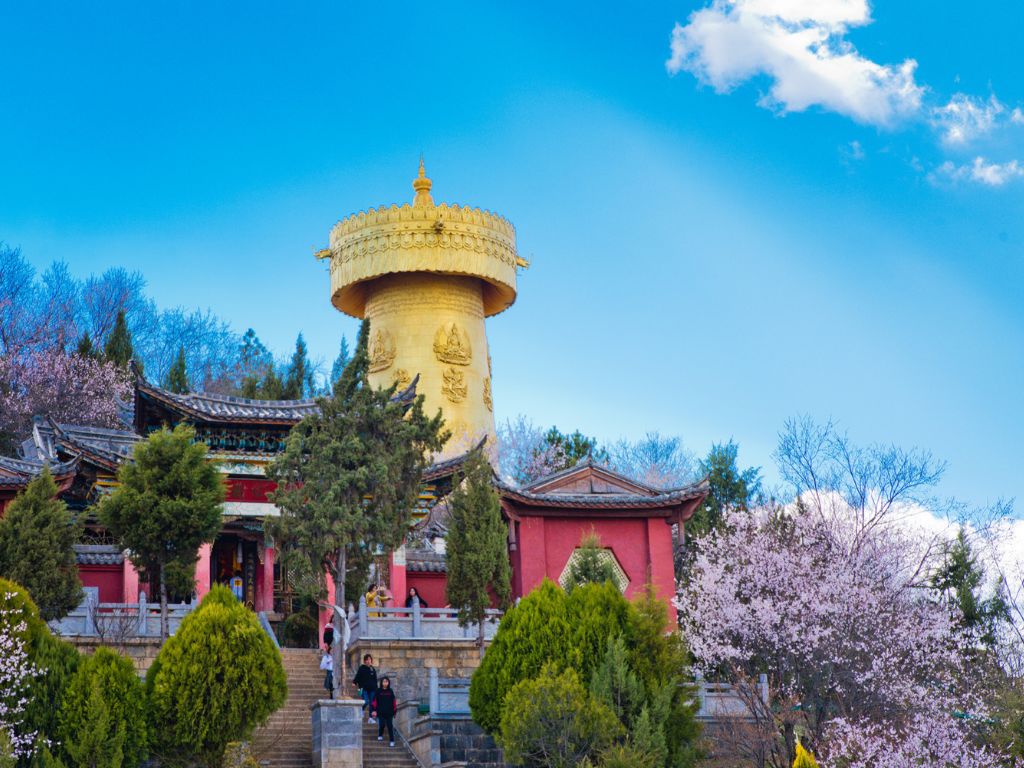 龟山公园-转经筒
After breakfast, visit Xizhou Ancient Town It's a thousand-year historical Bai ethic ancient town that can't be missed by tourists. Next, we will check-in at the Corner Tower and You will also get to enjoy one complimentary famous ice cream, tastes the Dali 3 cups of tea and enjoy the renowned Bai song and dance show. After lunch, you will coach to the mysterious Zhongdian, Shangri-La. along the way you will see the First Bend of the famous Yangtze River. Upon arrival, we will visit Tiger Leaping Gorge you can enjoy deep-incised river gorges, luxuriant forests, towering snow-clad mountains, glaciers of the UNESCO site. Visit Guishan Park in Dukezong Ancient Town, also known as 'Moonlight Ancient Town' in Tibetan, which translates to 'White Stone City.' Here, you can also visit the world's largest prayer wheel.
H: Shangri-La Yijin Muyun Hotel or SML

Breakfast / Lunch / Dinner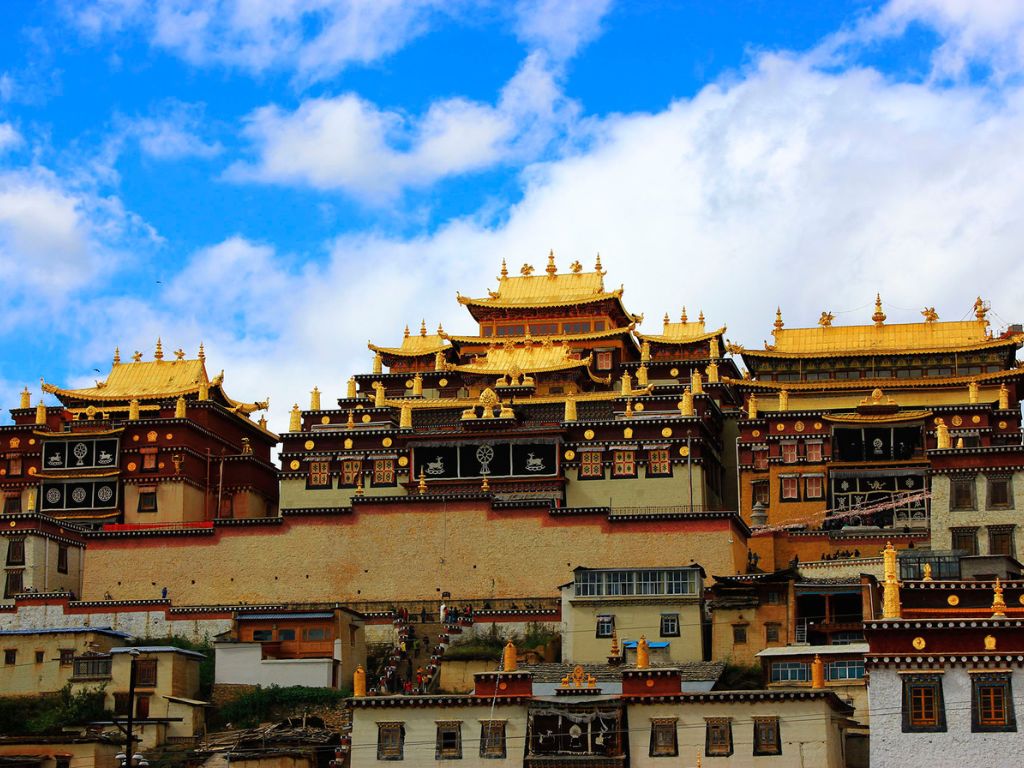 松赞林寺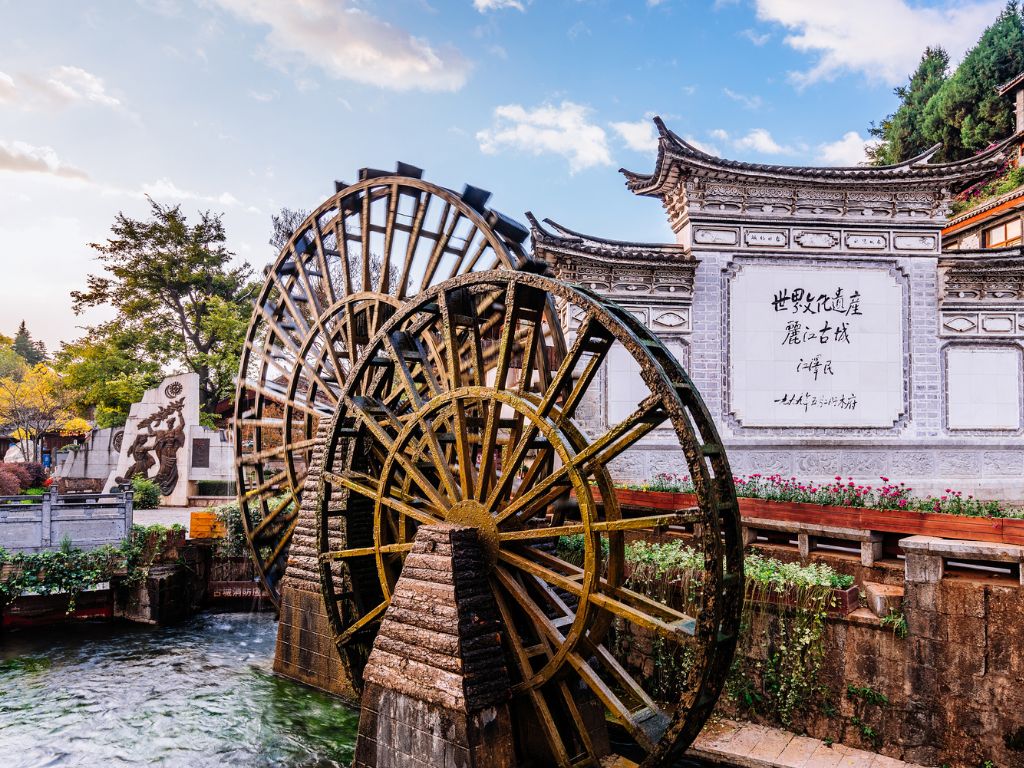 丽江古城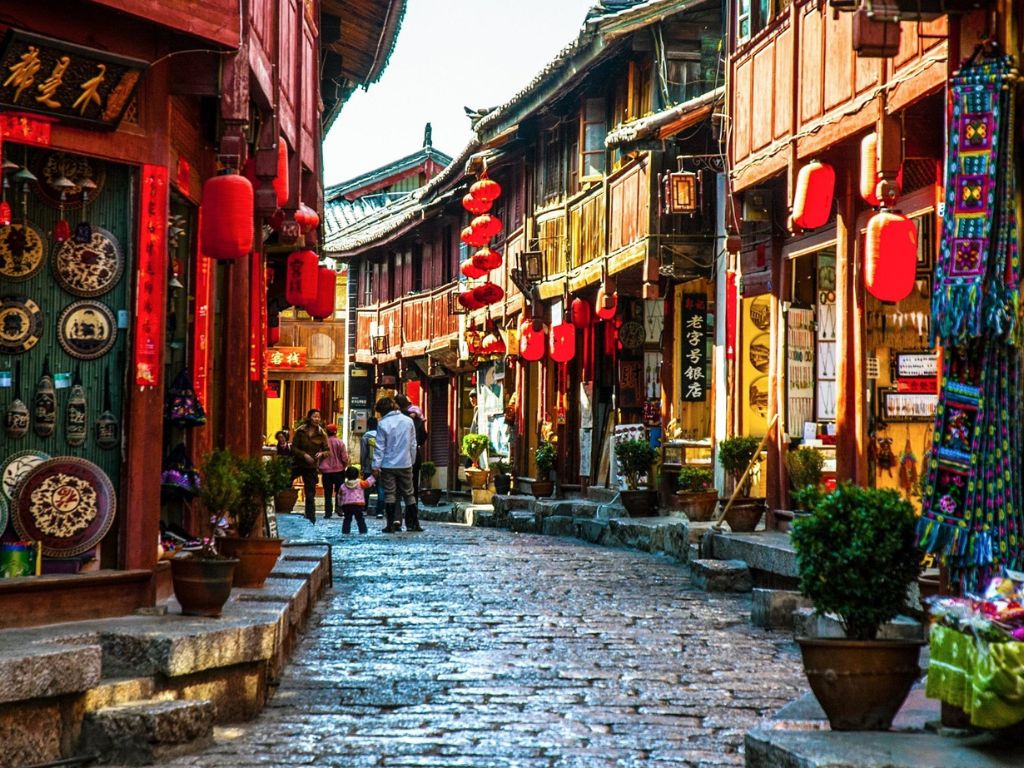 四方街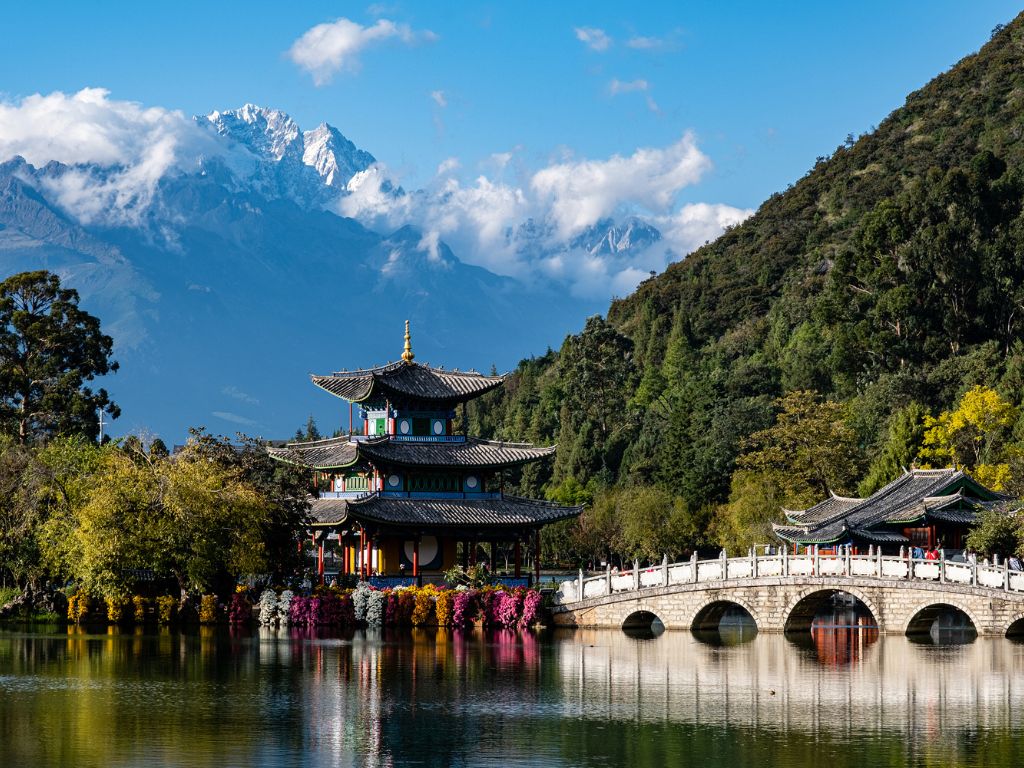 黑龙潭公园
After breakfast, we will visit Ganen Sumtseling Monastery (Eco-car included), the largest Tibetan Buddhist temples in Yunnan and Kang district. It is Shamanism religion in Sichuan-Yunan. Known as "Little Potala Palace". Then arriving in Lijiang, visit Lijiang Ancient Town and The Square, which is well preserved and has the unique characteristics of "small bridge, flowing water and family". Continue to visit the Black Dragon Pool Park where its lake is clearly visible and also known as "Jade Spring".
H: Gelle Freres Garden Hotel or SML

Breakfast / Lunch / Dinner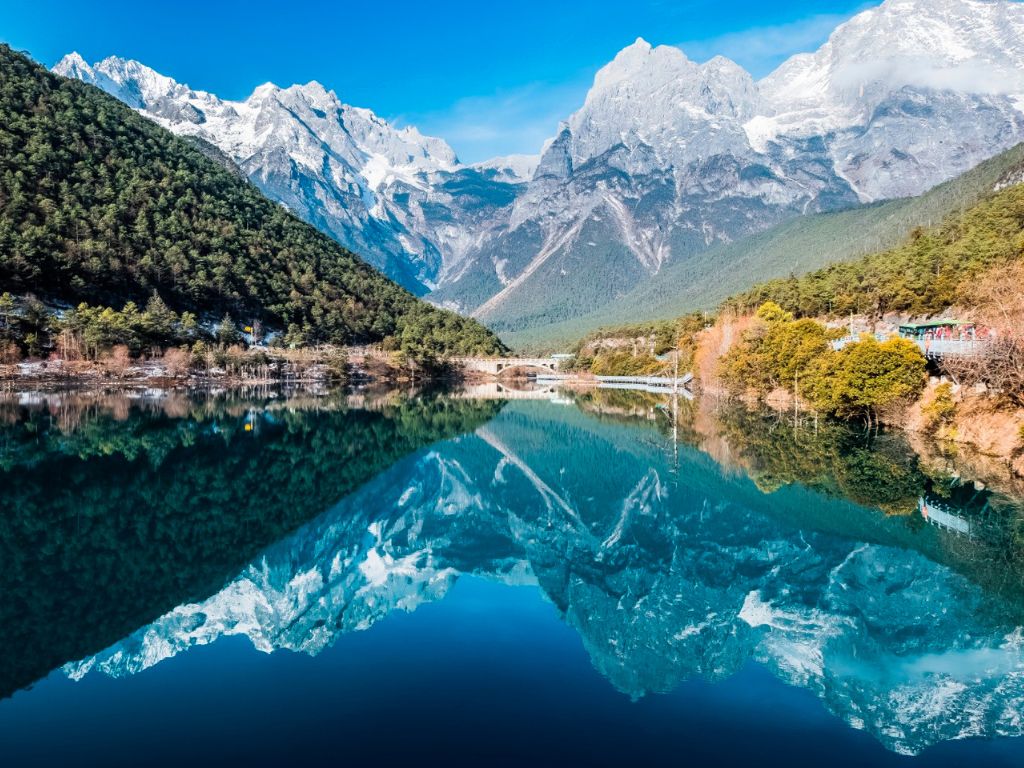 玉龙雪山风景区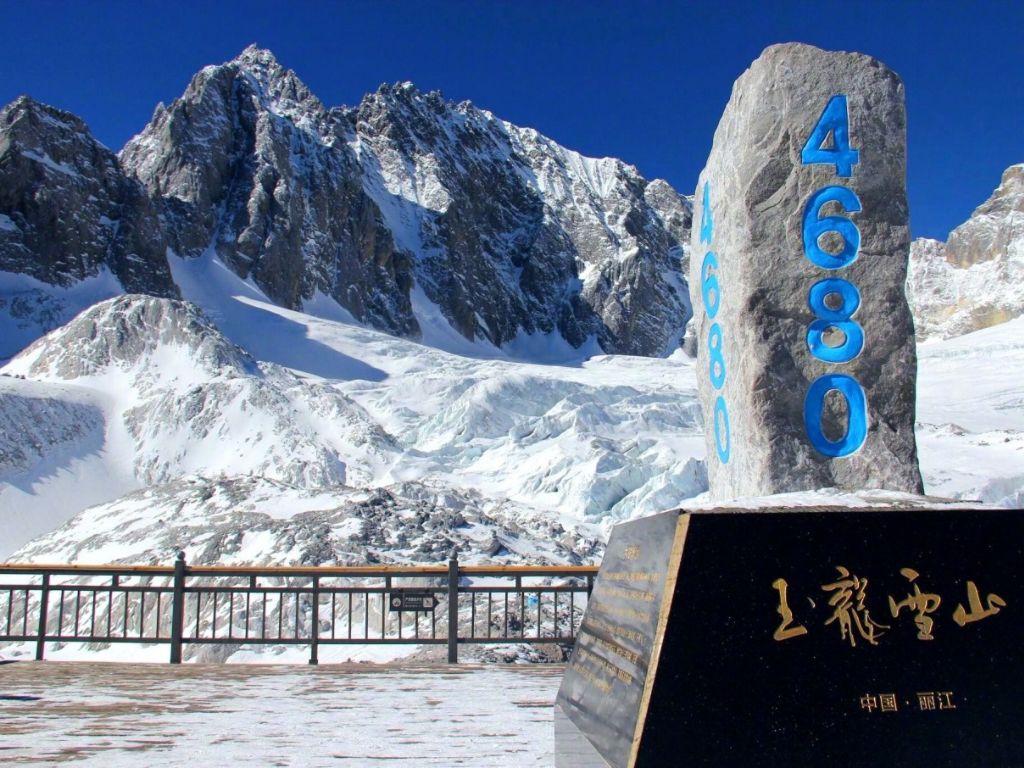 冰川公园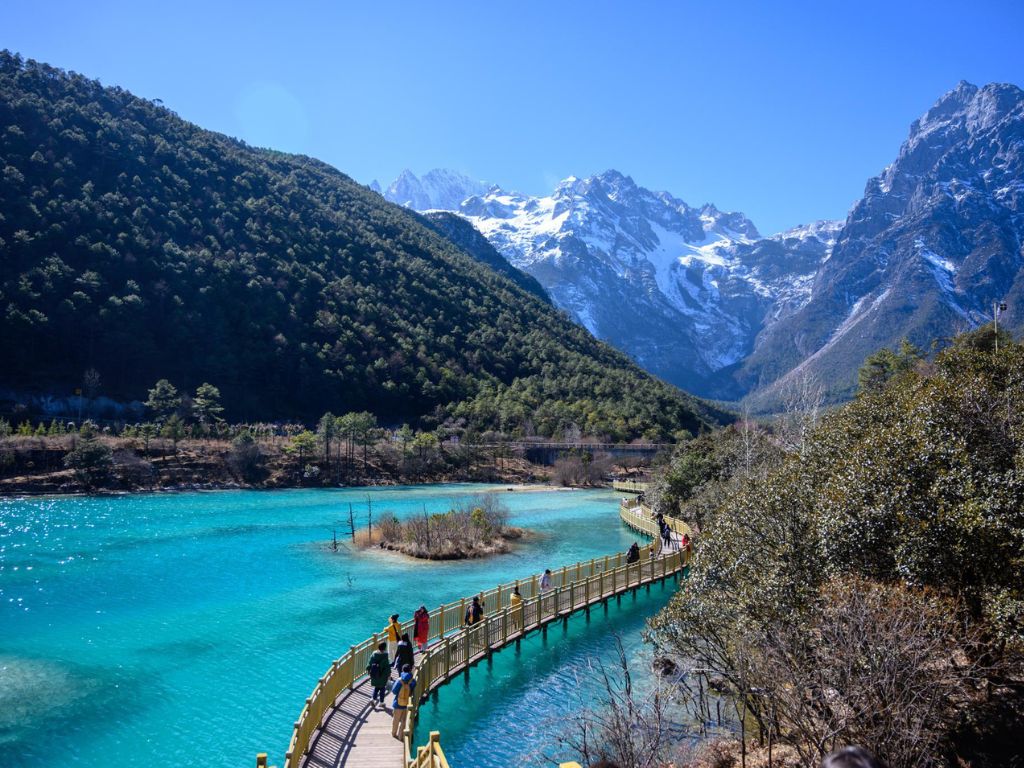 蓝月谷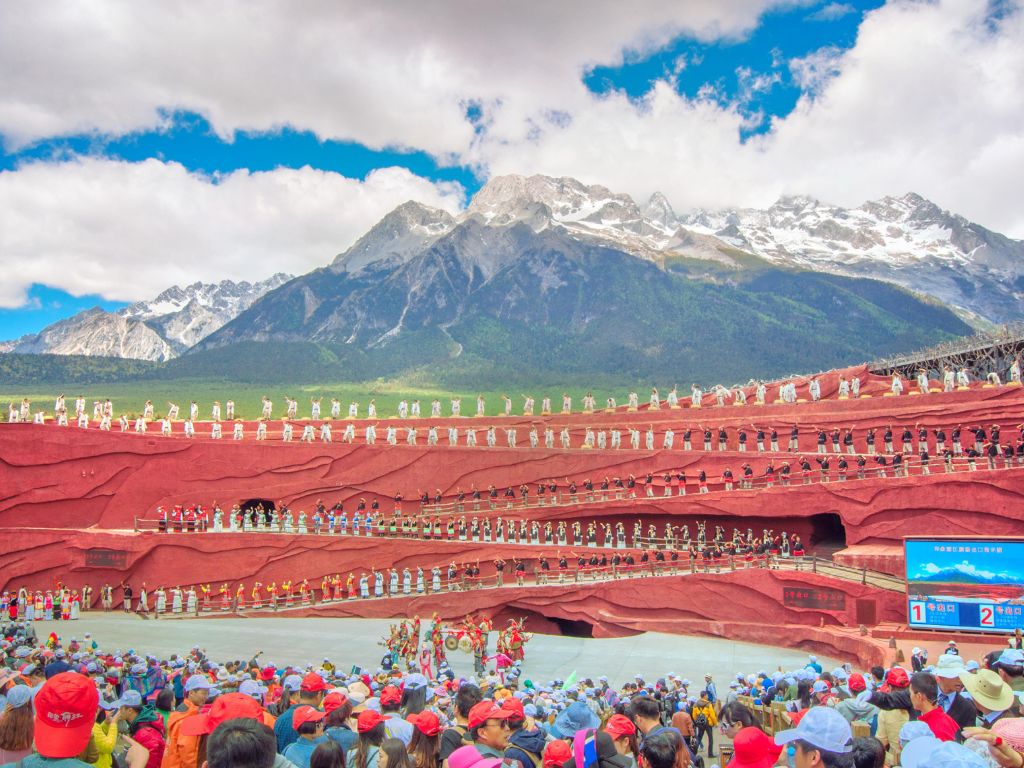 《印象丽江》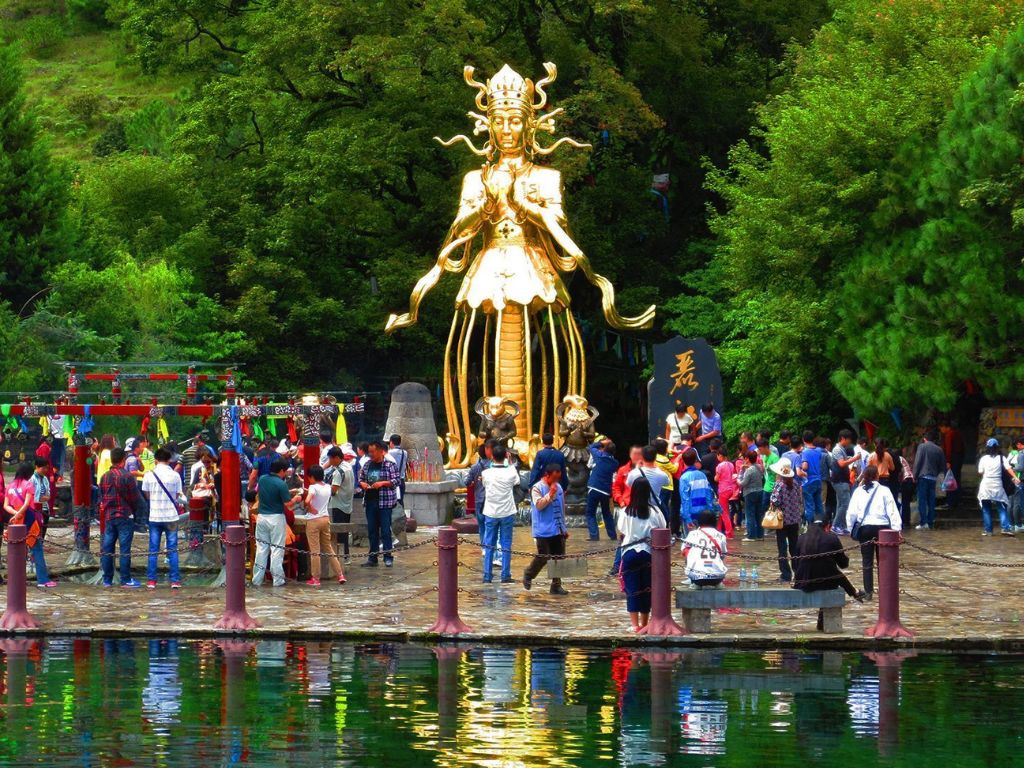 玉水寨
After breakfast, we will we will visit the Jade Dragon Snow Mountain Scenic Area, proceed with a cable car ride to Glacier Park, which is 4,500-metres above sea level. This is the best place to experience snow as the park is covered with snow during autumn and winter. Thereafter, enjoy an ecological stage performance, <Impressions of Lijiang>, directed by renowned Chinese director, Zhang Yimou. Where you will also see Blue Moon Valley (excluding of tram ride), Next, visit Jade Water Village- the pristine and beautiful water source of Lijiang.
Note: 1) In the case of heavy snow or other unforeseen circumstances that causes the cableway closed, it will be replaced by Yun Shan Ping cableway. No compensation will be made for other arrangement.
Note: 2) <Impression of Lijiang> performance is a complimentary item; there will be no replacement in the event of cancellation with or without prior notice.
H: Gelle Freres Garden Hotel or SML

Breakfast / Lunch / Dinner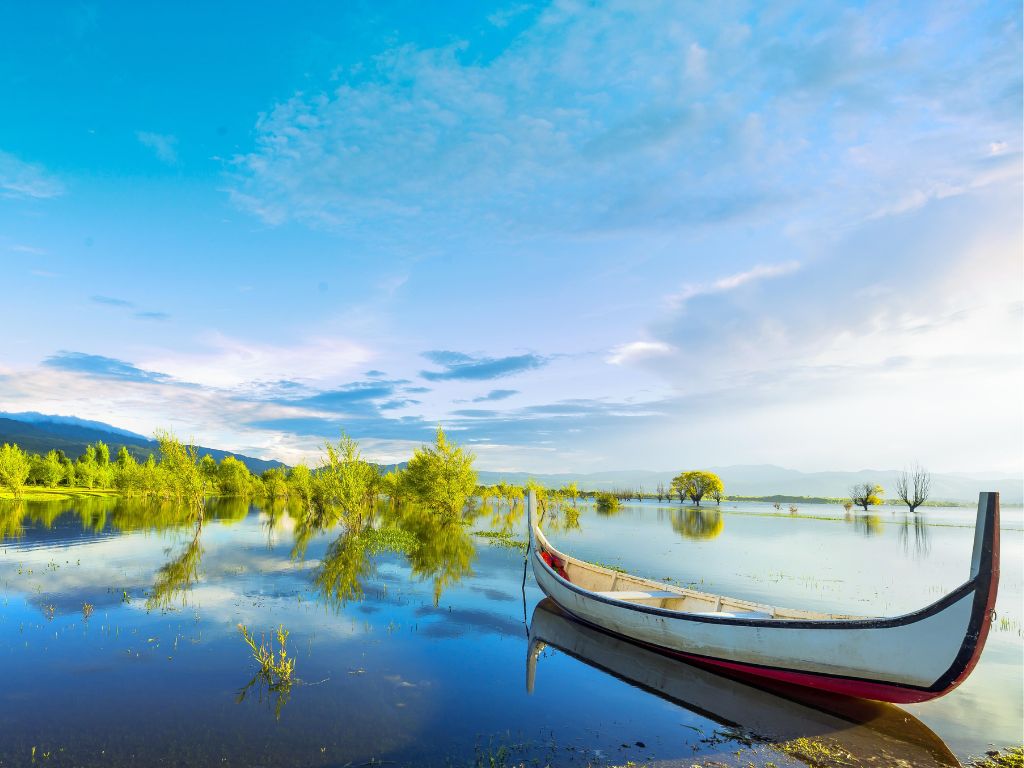 拉市海湿地公园-候鸟湾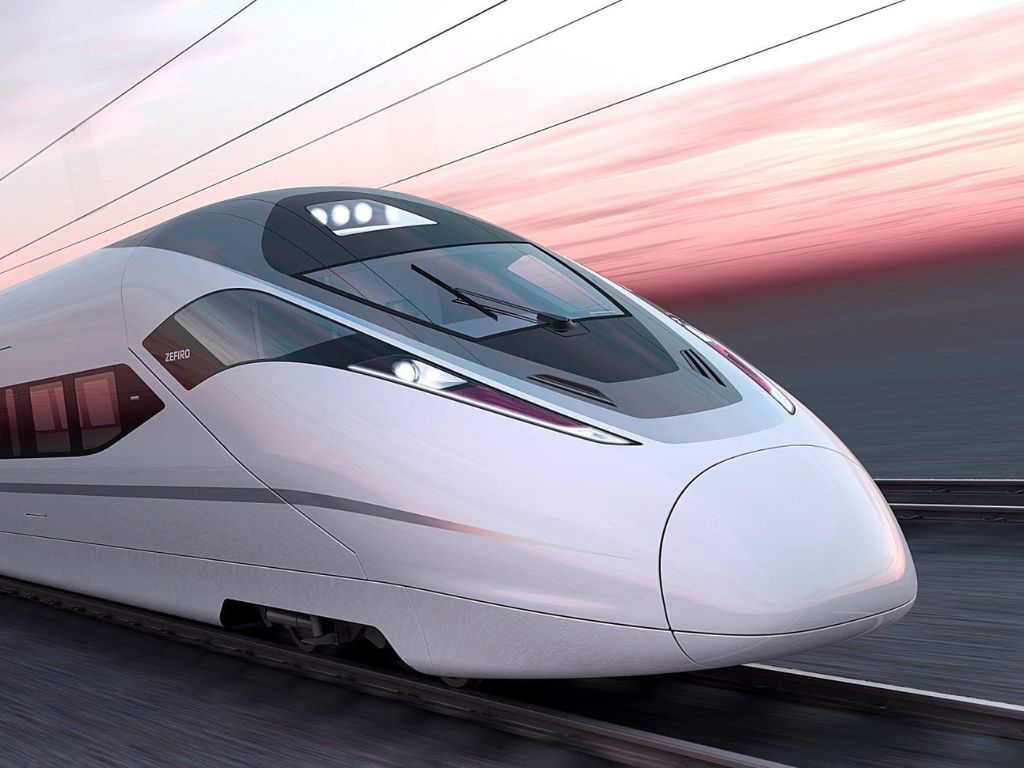 乘坐动车返回昆明
After breakfast, coach ride to Lijiang and visit Lashihai Wetland Park- Houniao Bay. The prime bird-watching period here is from November to March of the following year. Enjoy the "sea" breeze and soak up the sun while admiring the adorable postures of migratory birds along the "seashore" and play with them. After lunch, take a high-speed train back to Kunming, where you can fully enjoy the beautiful scenery along the journey.
H: Golden Eagle Hotel or SML

Breakfast / Lunch / Dinner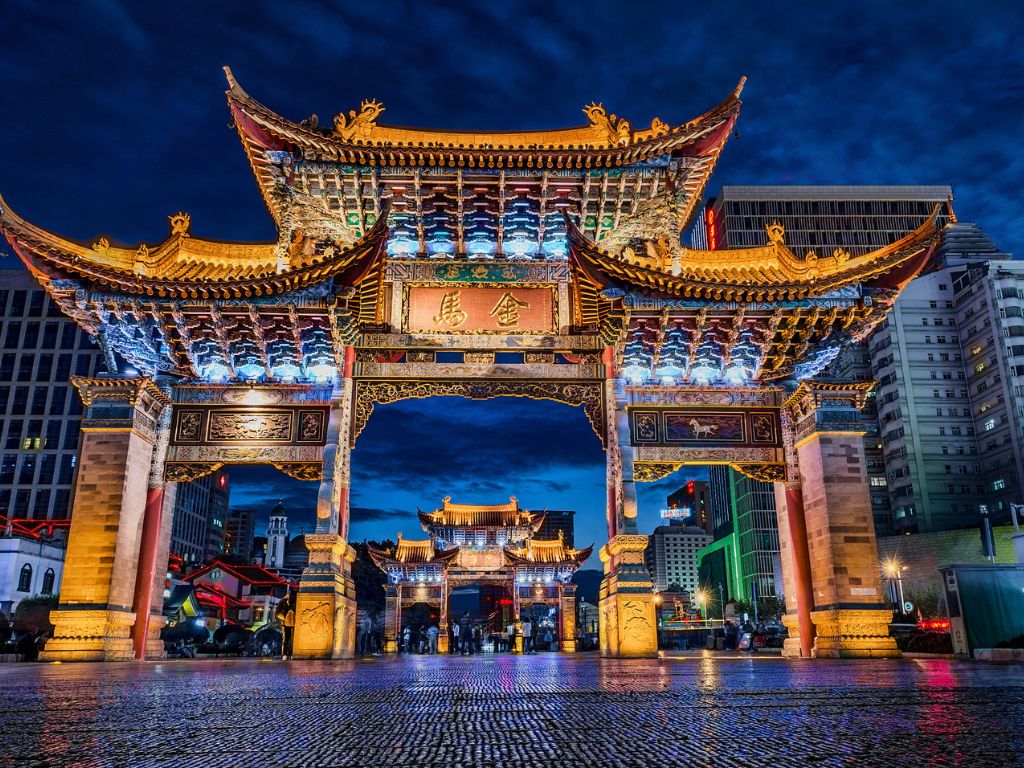 金马碧鸡坊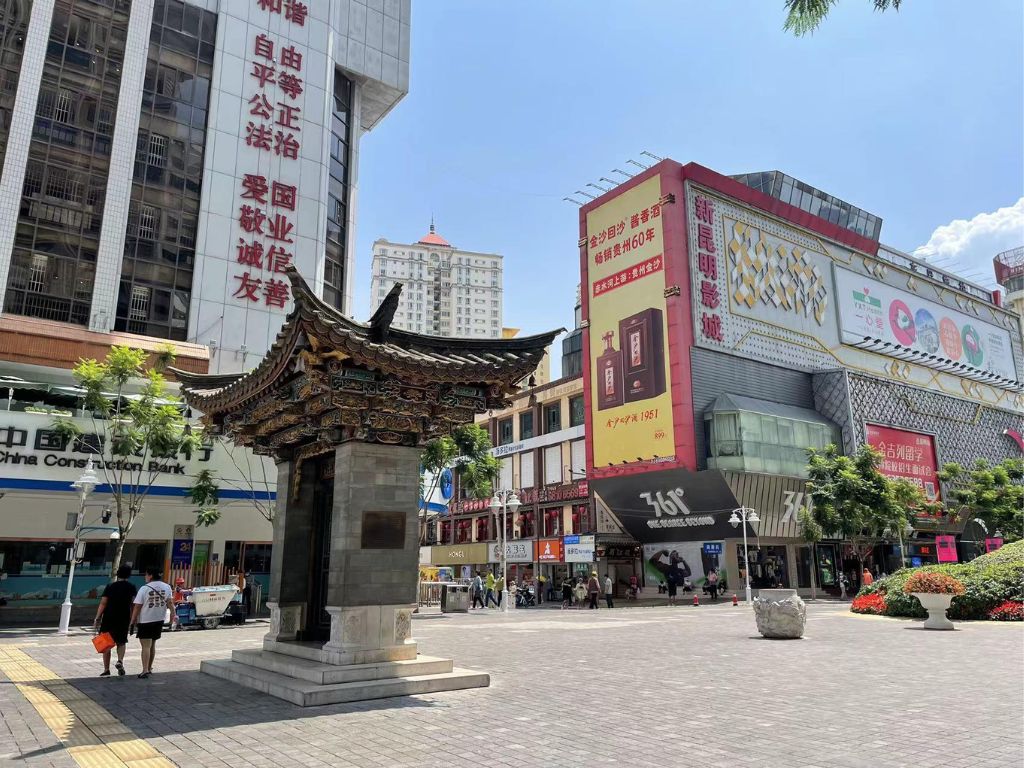 南屏步行街
After breakfast, visit Jimabiji Pavilion and Nanping Shopping District. After Lunch, proceed to the airport for your flight back to Malaysia.

Breakfast / Lunch / Meals On Board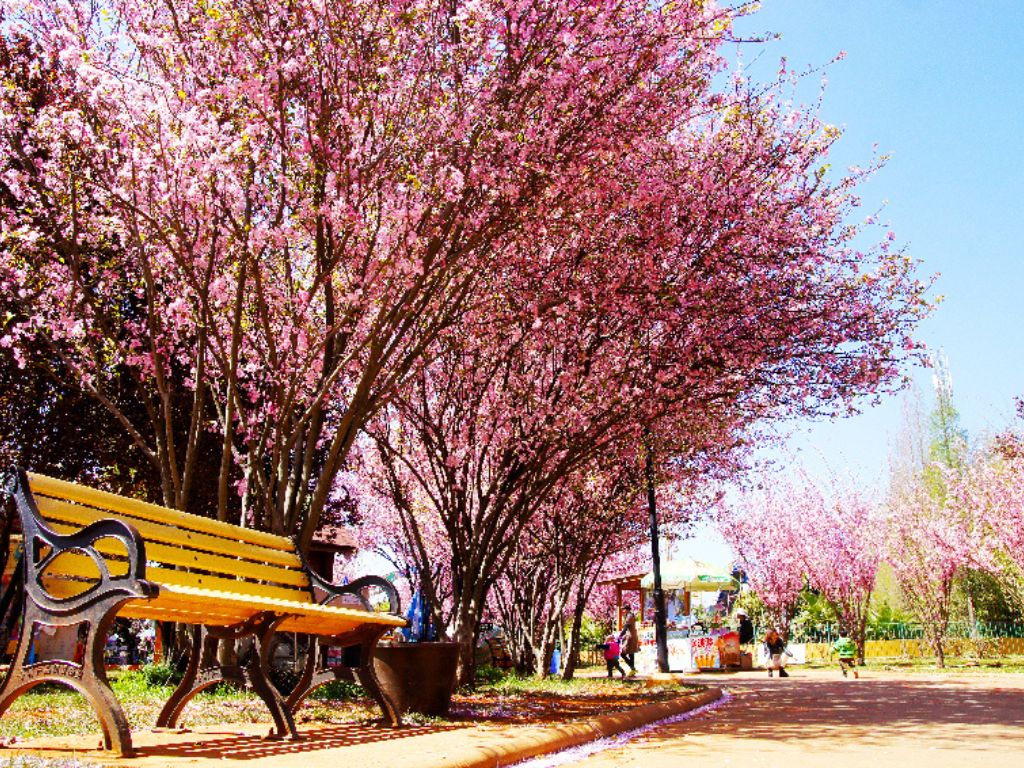 吉隆坡国际机场集合,前往云南省省会"春城"昆明。入住石林酒店休息
宿:红杉湖温泉酒店或同级



飞机餐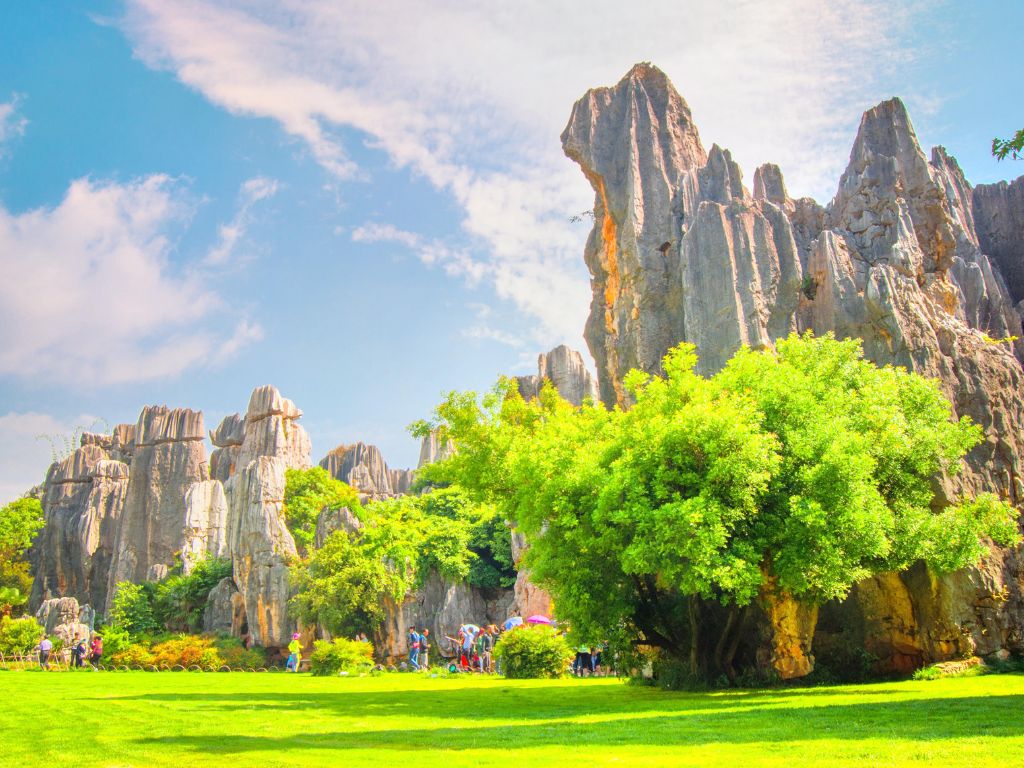 大小石林风景区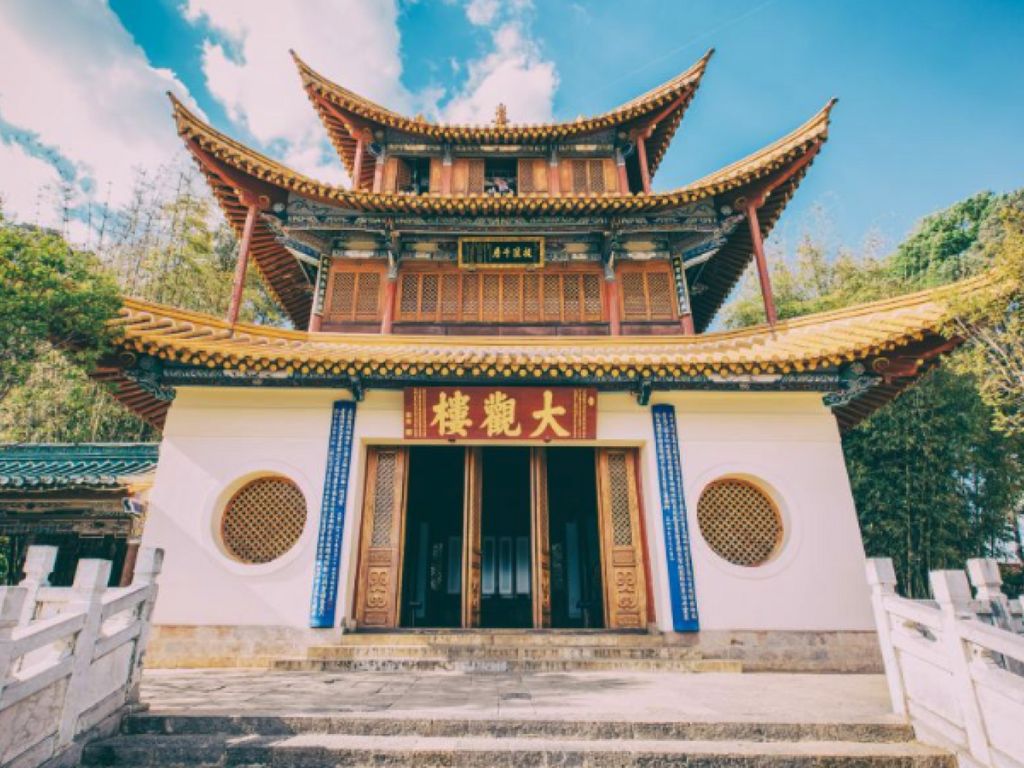 大观楼公园
早餐后,前往石林游览大小石林风景区(含电瓶车) 石林是石灰岩岩溶地貌(喀斯特地貌),岩石经过各个时期的地壳变化,及常年的风雨侵蚀,无数石峰、石柱、石笋拔地而起,形成了千姿百态的石林。午餐后,游览昆明因长联而成的中国名楼大观楼公园,这里在不同的季节有不同的花期如:荷花季(7-8月)、金秋菊花展(9-10月)、冬季红嘴鸥(11-12月)。
注:花期会因当年的天气情况有所调整,最终赏花内容以当年具体情况为准。
宿:维居金鹰大酒店或同级

洱海生态廊道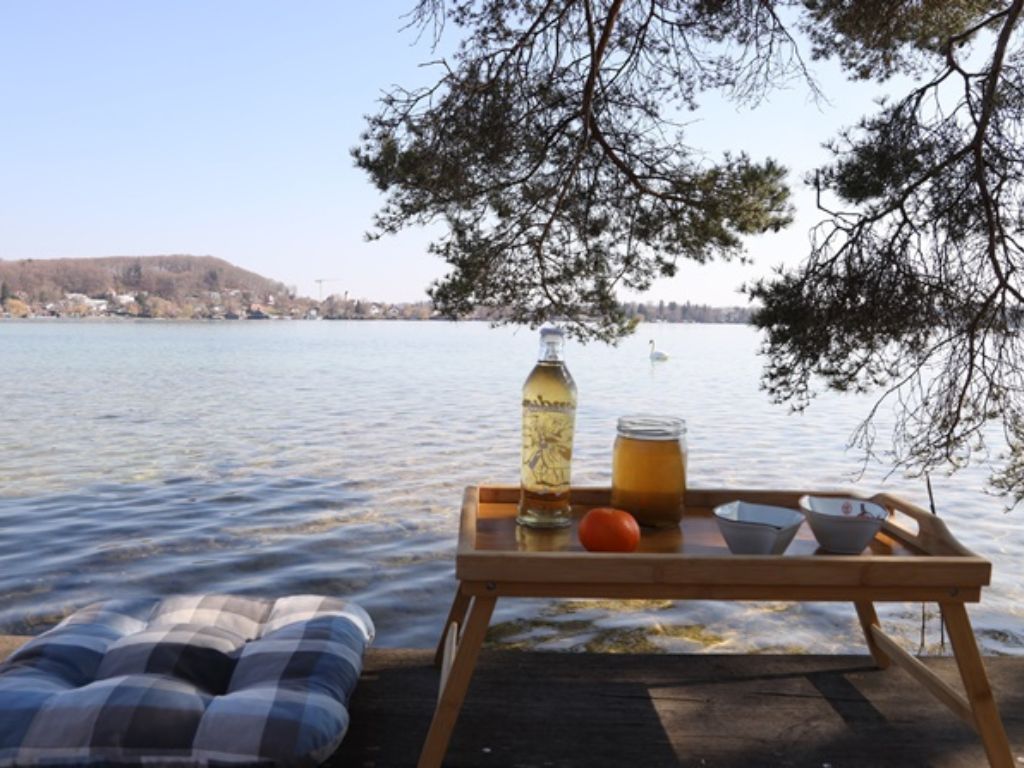 独家安排在洱海边享受下午茶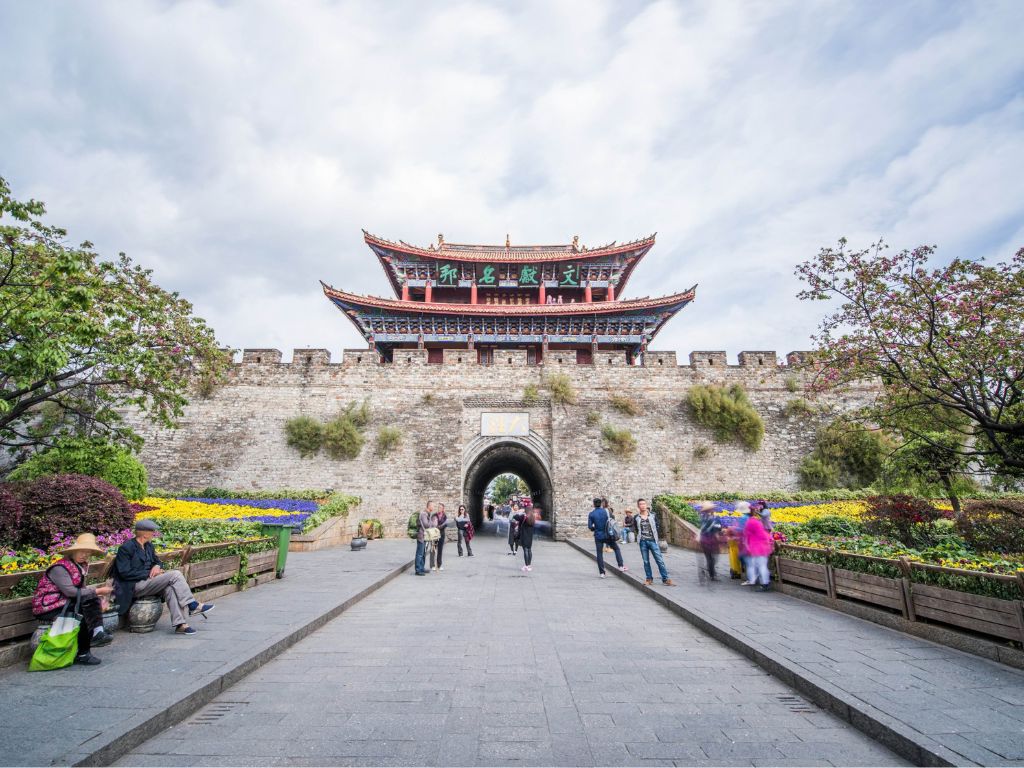 大理古城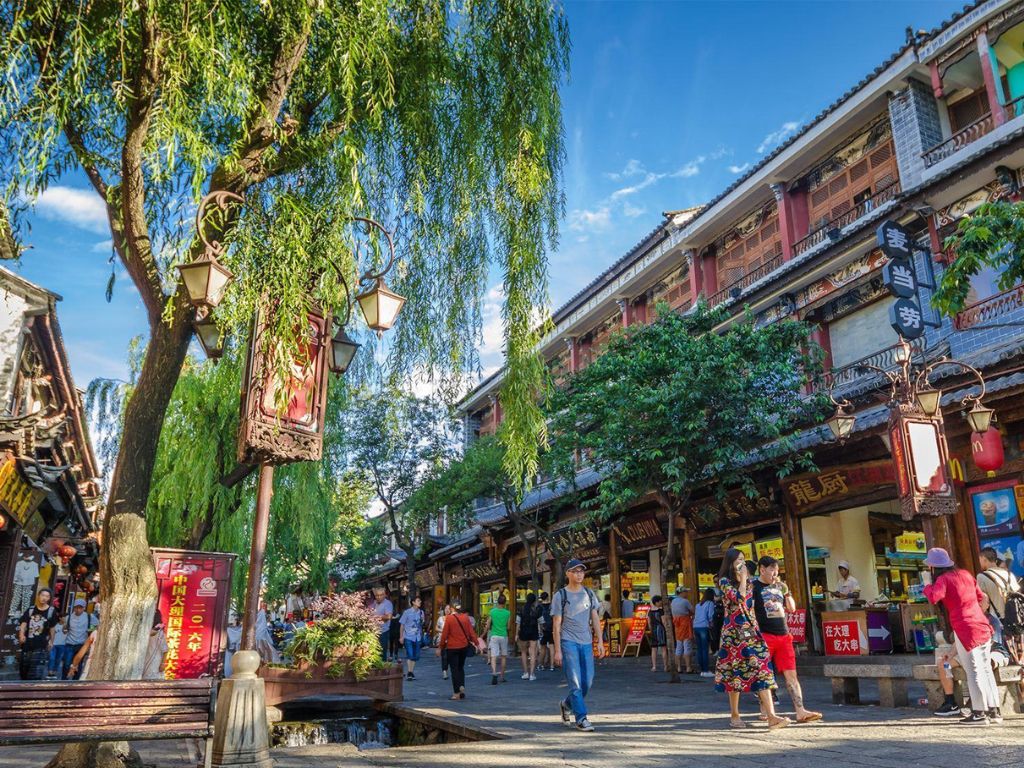 洋人街
早餐后,前往以风、花、雪、月四景最为著名的大理,抵达后,前往洱海生态廊道- 体验醉美洱海旅拍(含廊道电瓶车)吉普车摆拍3张电子照片/组家庭,网红摆拍道具(天空之境、玻璃球、天梯等)独家安排在洱海边享受下午茶,每人一杯花茶、甜点拼盘。随后游览大理古城(不含电瓶车)。大理古城有 600 多年历史,它东临洱海,西枕苍山,城中溪水清澈,随处可见白族传统民居。古城大理吸引了来自各国的游客,在城内形成了一条有名的 "洋人街" ,既可以看到白族古朴的民风文化,又可领略多姿多彩异域风情。
宿:唐.中和坊酒店或同级

喜洲古镇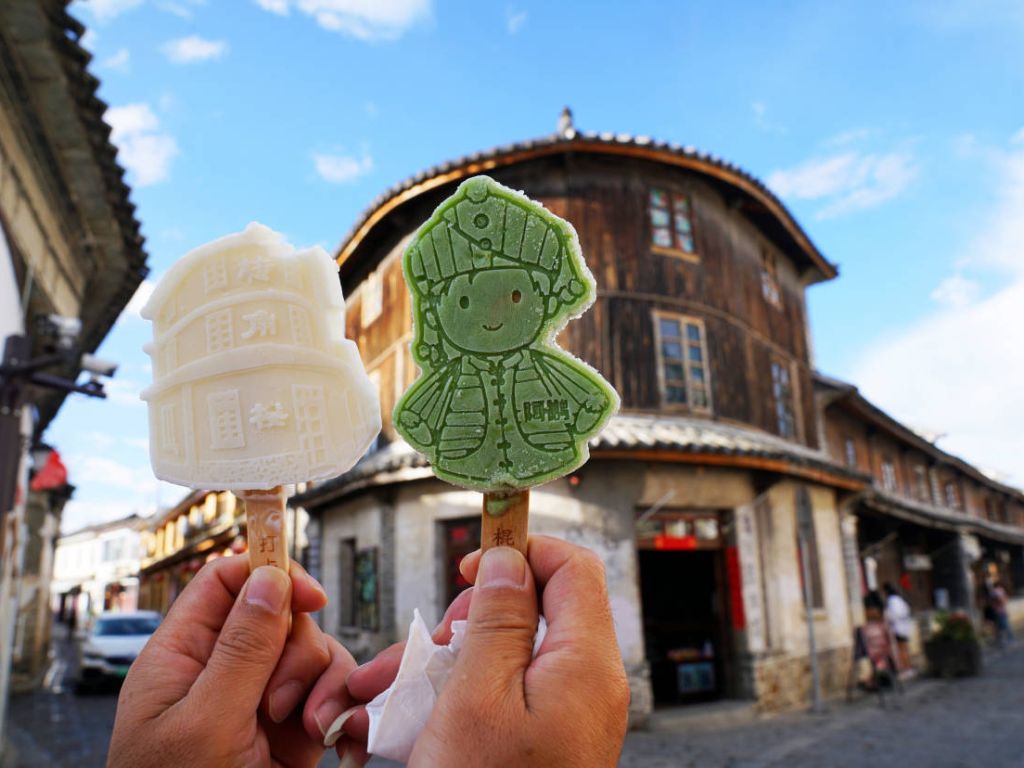 特别赠送每人1支同款网红转角楼冰棒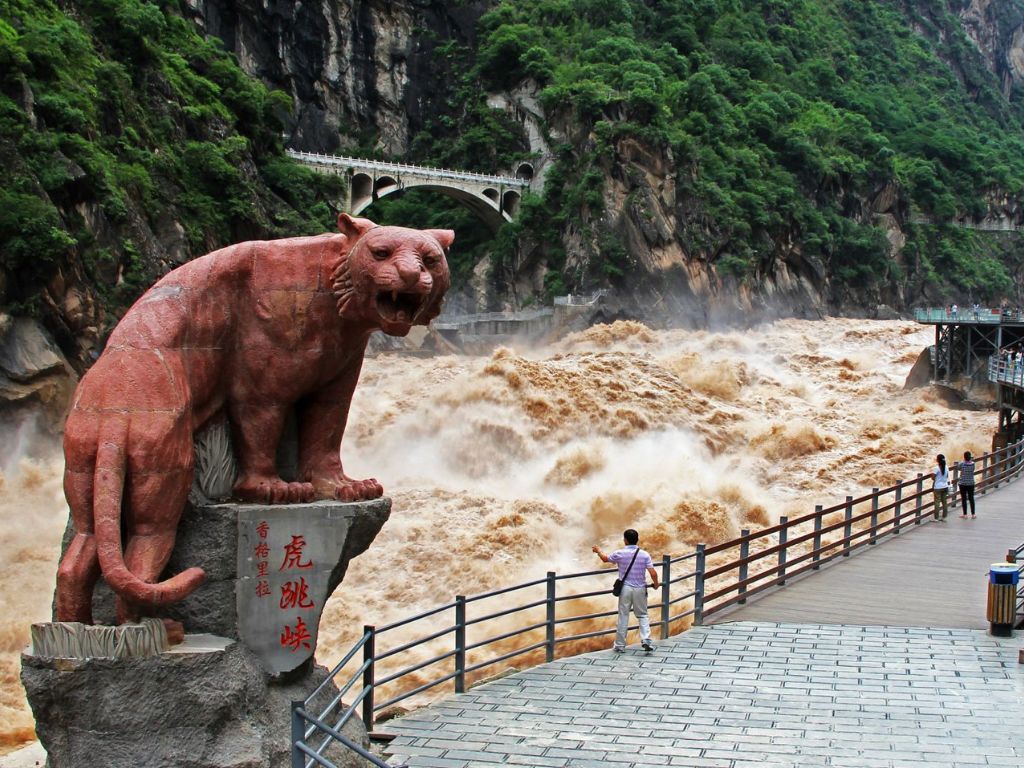 虎跳峡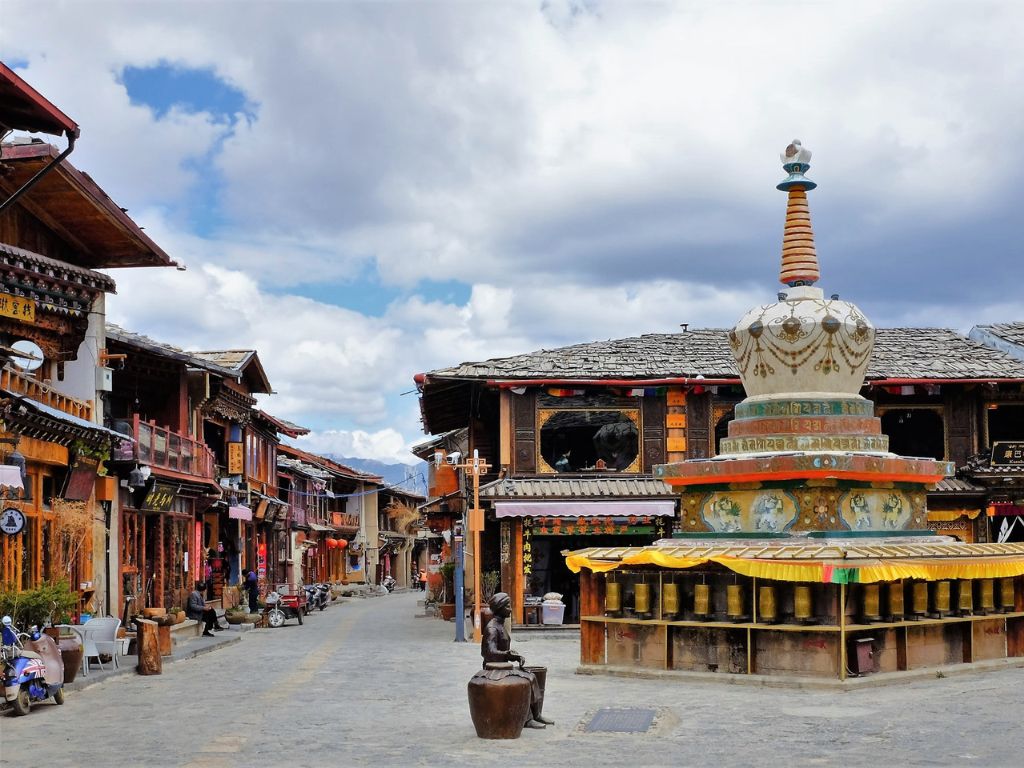 克宗古城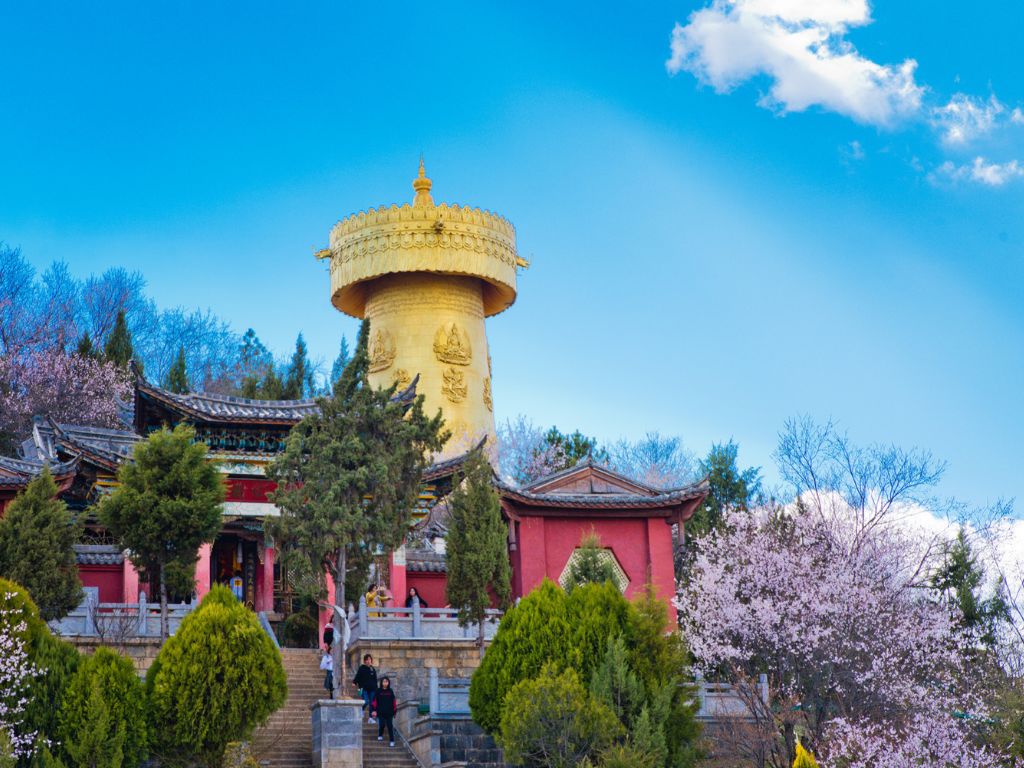 龟山公园-转经筒
早餐后,游缆喜洲古镇有着千年历史的白族历史文化名镇,具有浓郁的民族风情和历史文化气息,接着打卡转角楼-特别赠送每人1支同款网红转角楼冰棒。最后观赏大理著名的白族三道茶歌舞表演。午餐后,前往神奇美丽的 中甸香格里拉。沿途您将远观到著名的长江第一湾,长江是中国和亚洲第一。抵达中甸后,游览虎跳峡,这里以极大的落差闻名世界,全长约20公里。峡谷中间就是金沙江,两岸是玉龙、哈巴两大雪山,江水奔腾汹涌。之后前往独克宗古城龟山公园,又名"月光古城""藏语意为白色石头城。在这里还可以参观获颁吉尼斯记录的世界上最大的转经筒。
宿:蜀锦沐云大酒店或同级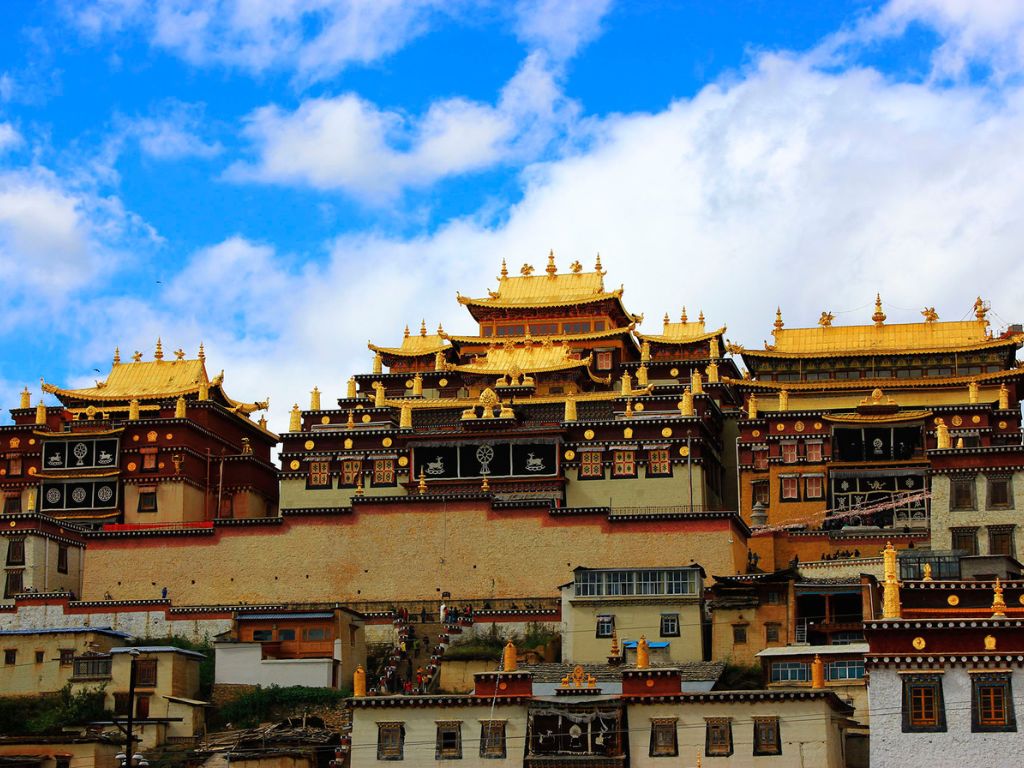 松赞林寺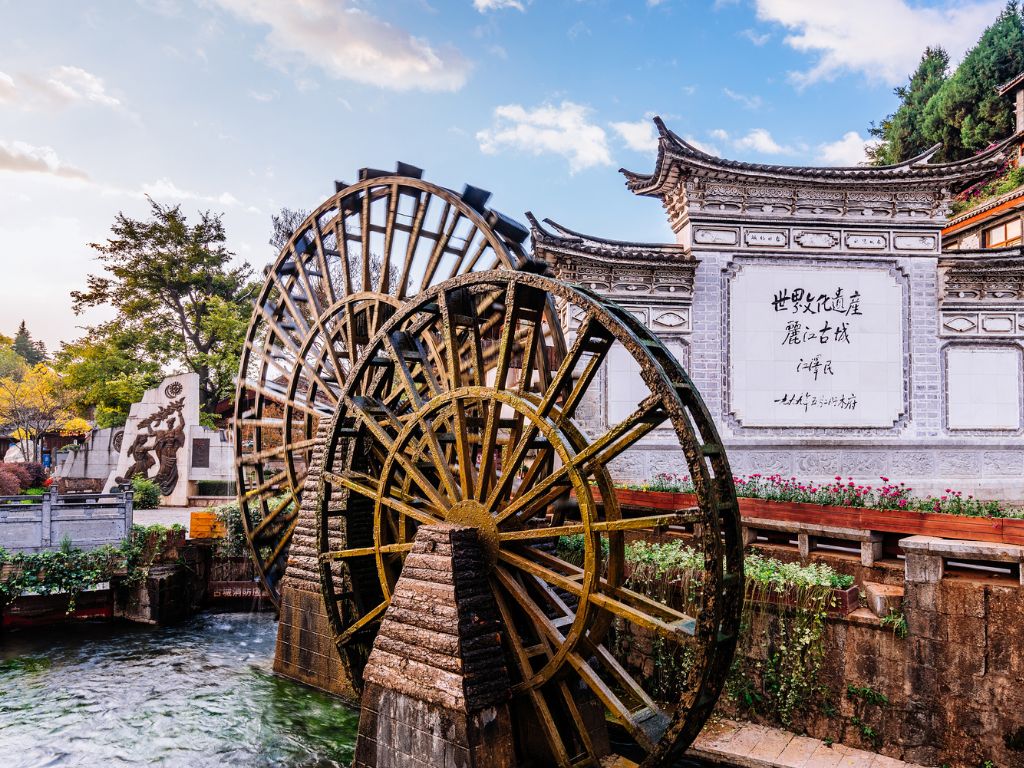 丽江古城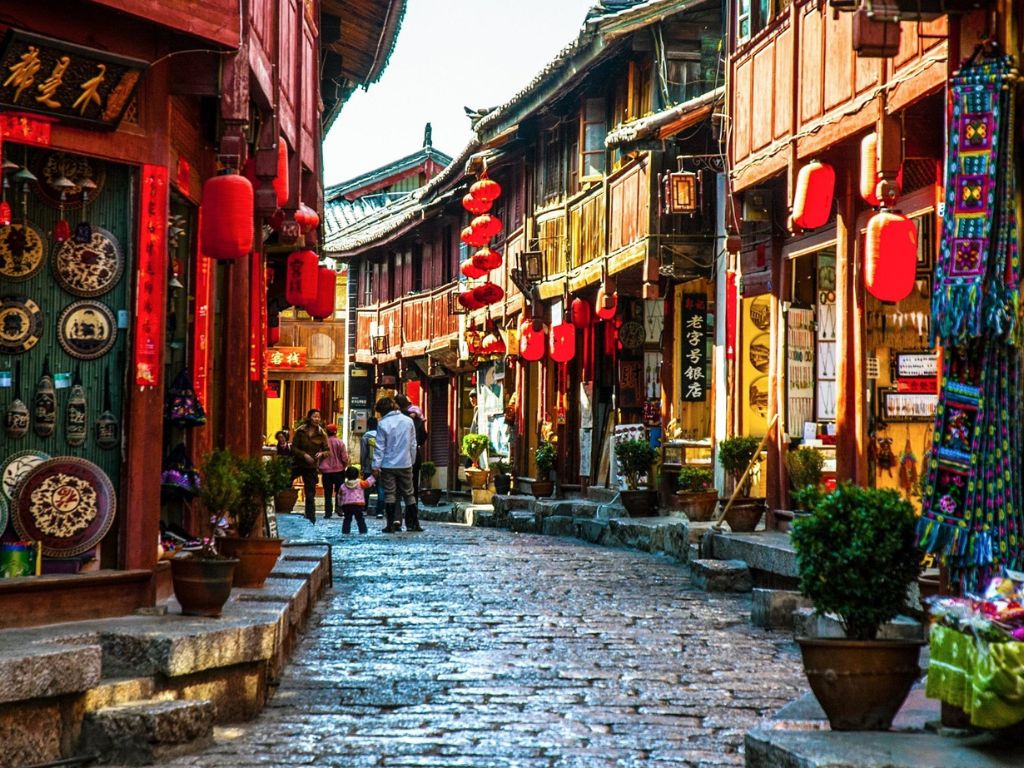 四方街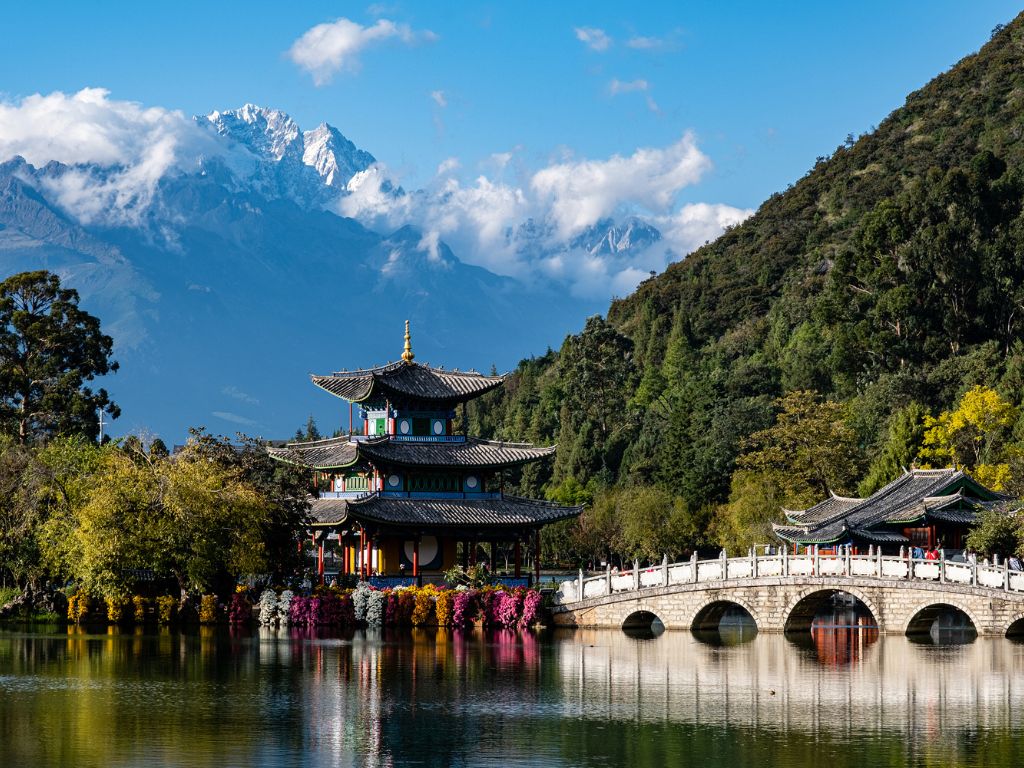 黑龙潭公园
早餐后,游览松赞林寺(含环保车),云南省规模最大的藏传佛教寺院,也是康区有名的大寺院之一,,被誉为"小布达拉宫"。该寺依山而建,外形犹如一座古堡,集藏族造型艺术之大成,又有"藏族艺术博物馆"之称。午餐后,游览丽江古城和保存完好、独具"小桥流水人家"特色的古城四方街。续往黑龙潭公园,潭水清碧如玉,玉龙雪峰及亭阁倒映潭中,清晰可见,又被称为"玉泉"。
宿:丽江婕珞芙花园酒店或同级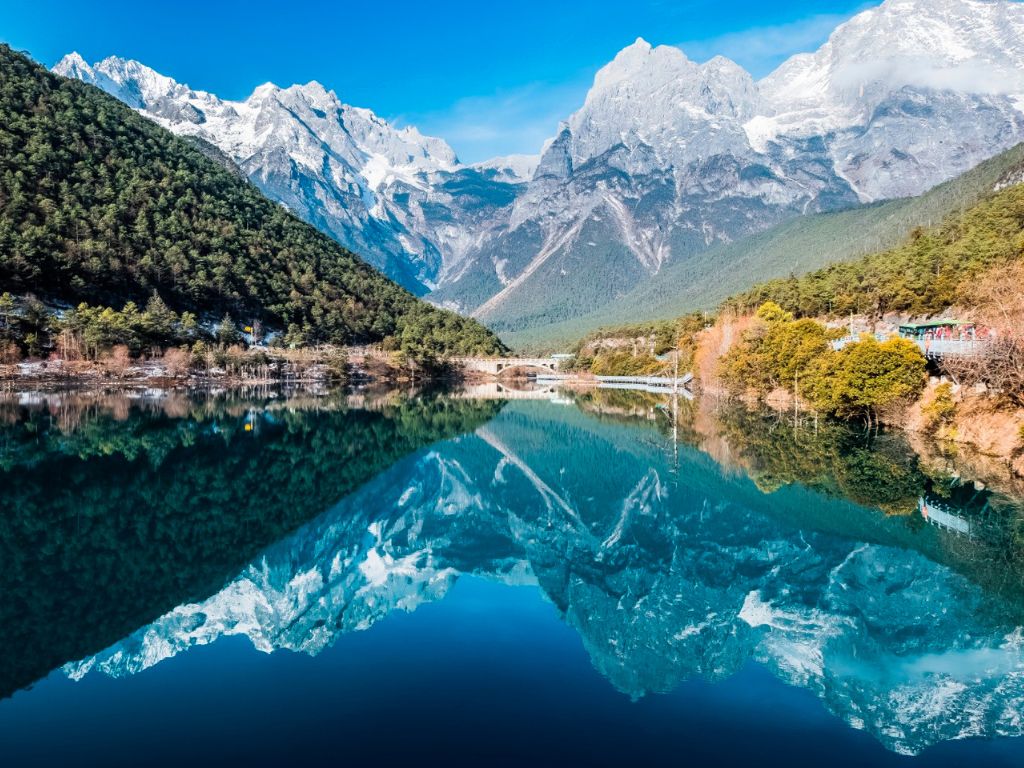 玉龙雪山风景区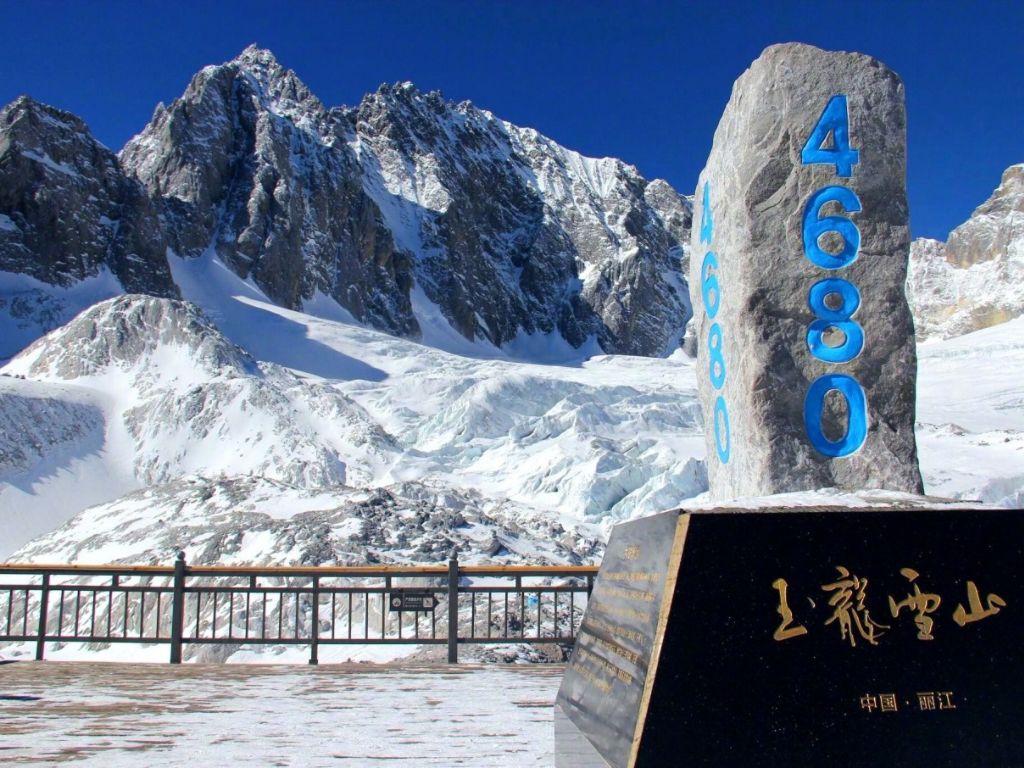 冰川公园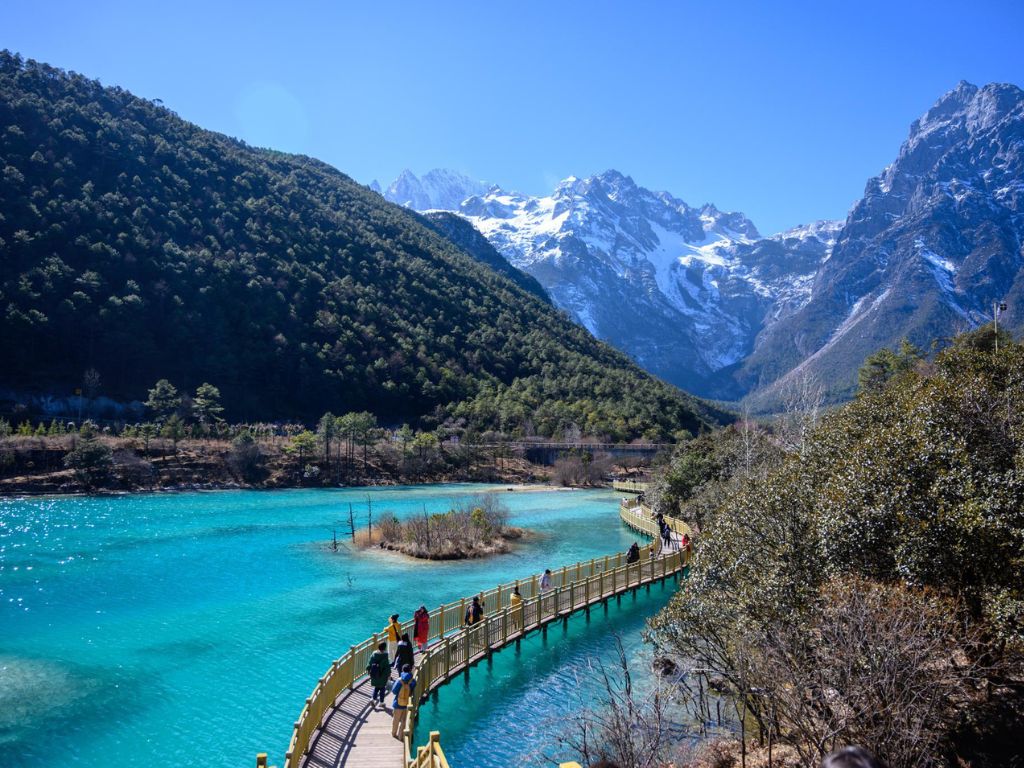 蓝月谷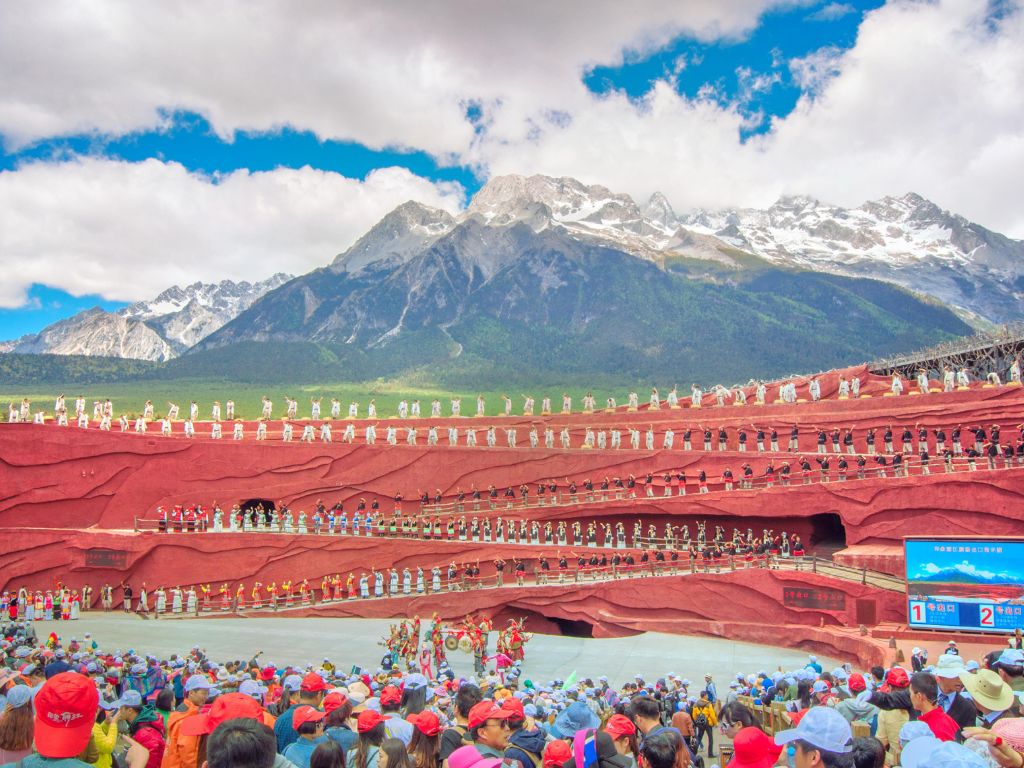 《印象丽江》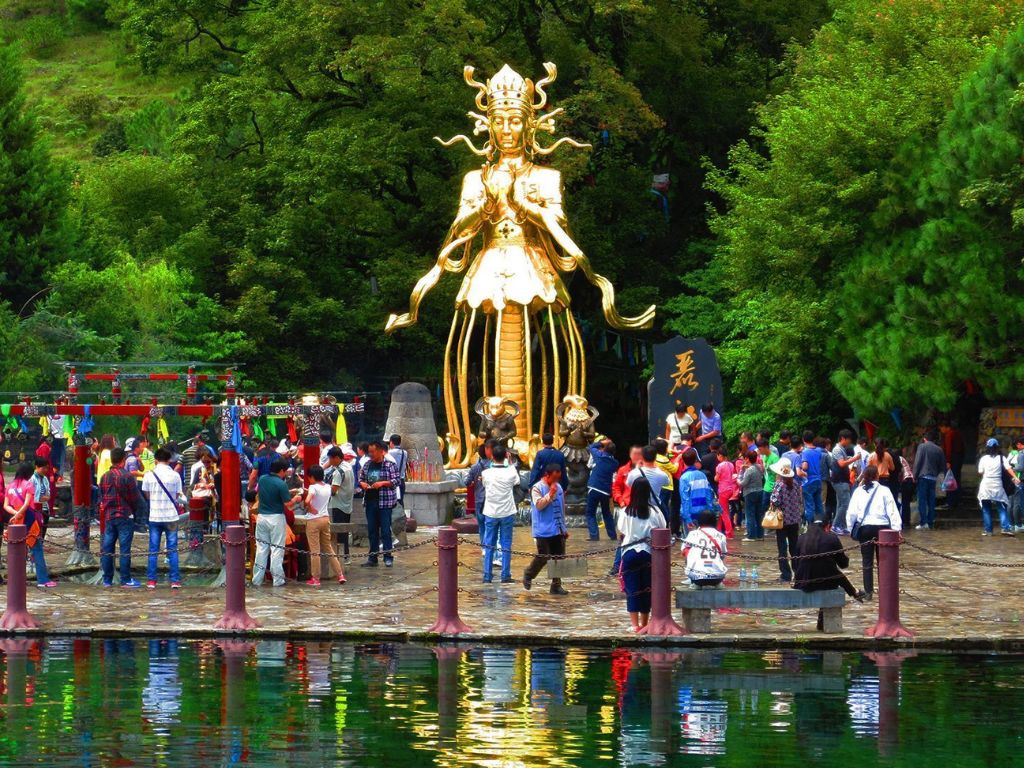 玉水寨
早餐后,游览玉龙雪山风景区,乘索道前往海拔 4500 米的冰川公园,长 2.7 公里、在四万年前形成的一号冰川,被赞为"绿雪奇峰"的冰塔林,仿佛一块块巨大的冰翡翠,镶嵌在嶙峋的怪石之间。玉龙雪山大索道是中国海拔最高的一条索道,全长 2900 多米,垂直高度有 1150 米,用 6 人座豪华全封闭缆车安全舒适,运行时间仅为半小时,却有经历四季之感。在缆车上升过程中,可以看到玉龙雪山的不同冰川:山谷冰川、冰斗冰川、悬冰川等。游览蓝月谷(不含电瓶车)被誉为"小九寨沟"的白水河,随后观赏由中国著名导演张艺谋执导的原生态大型实景演出《印象丽江》。接着游览玉水寨-清透美丽的丽江水源地。纳西族人对自然神的崇拜让雪山脚下有了这方净土。层层瀑布依山而下, 水中游弋着金色褐色额的丽江虹鳟鱼。
(注:若遇大风雪或人为不可抗拒原因导致冰塔林大索道关闭,将以云杉坪索道代替,如客人放弃替换景点将不做其他补偿。)
(注:《印象丽江》为赠送产品,如遇特殊情况停演,将不再以其他演出替代。)
宿:丽江婕珞芙花园酒店或同级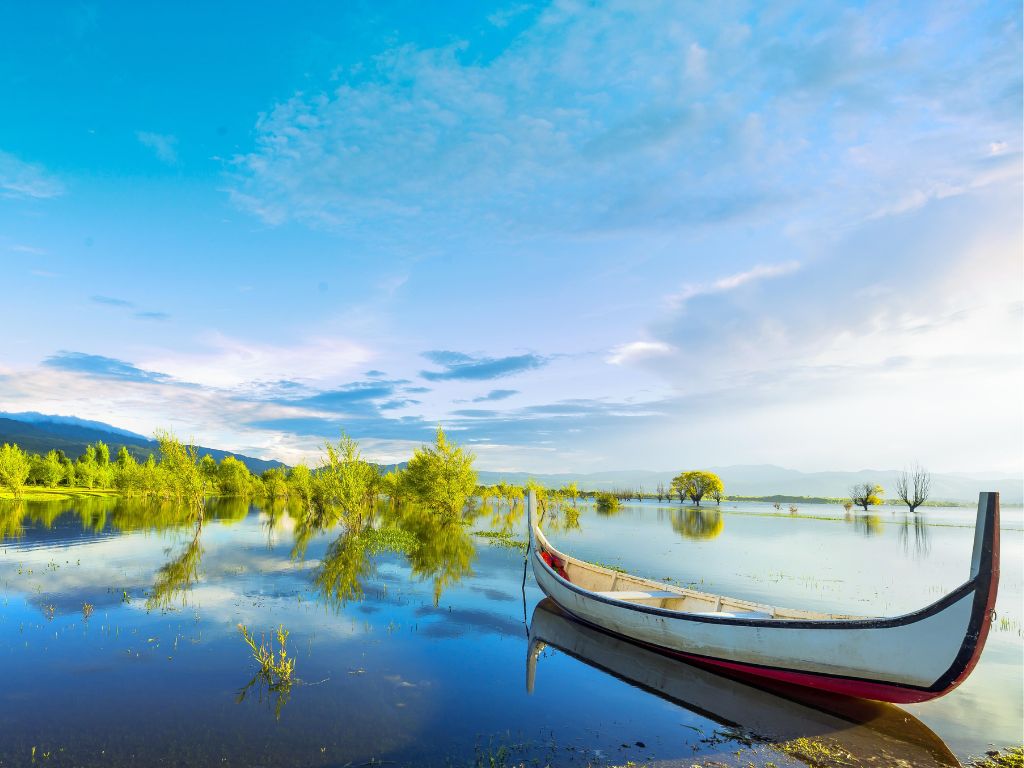 拉市海湿地公园-候鸟湾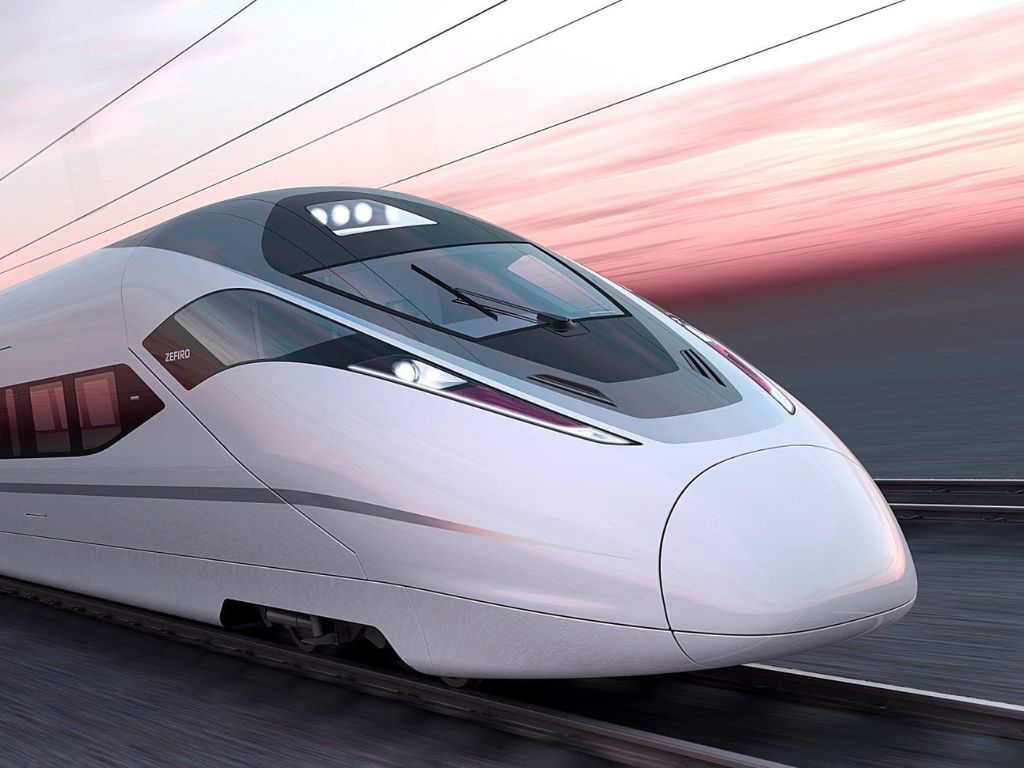 乘坐动车返回昆明
早餐后,乘车前往丽江,游览拉市海湿地公园-候鸟湾,这里每年黄金观鸟期"11月至次年3月",在这里,吹着"海"风、晒着太阳,沿着"海"岸欣赏候鸟可爱的身姿,与其一起嬉戏玩耍。每年3-4月春风吹来了盛放的桃花之海。夏秋季节,便是湿地公园最斑斓的时候,蓝天白云,映衬着碧波荡漾的湖水,配上四季花田,构成了候鸟湾的多彩与美妙。午餐后,乘坐动车返回昆明, 你可以尽情享受旅途中的美景。
宿:维居金鹰大酒店或同级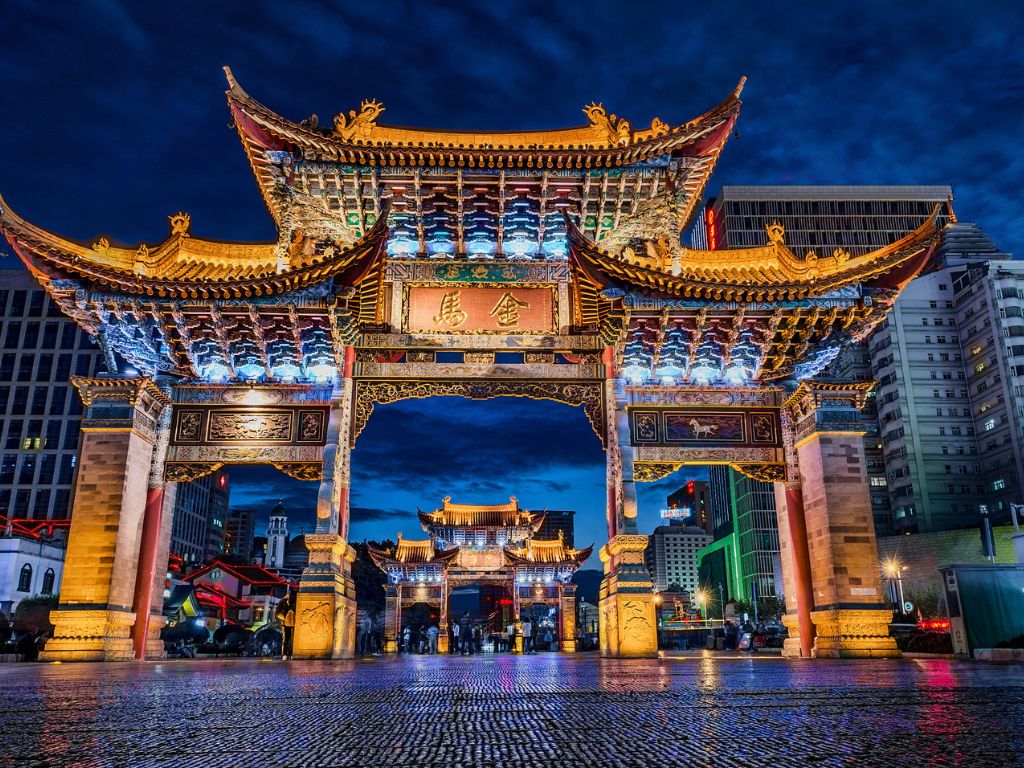 金马碧鸡坊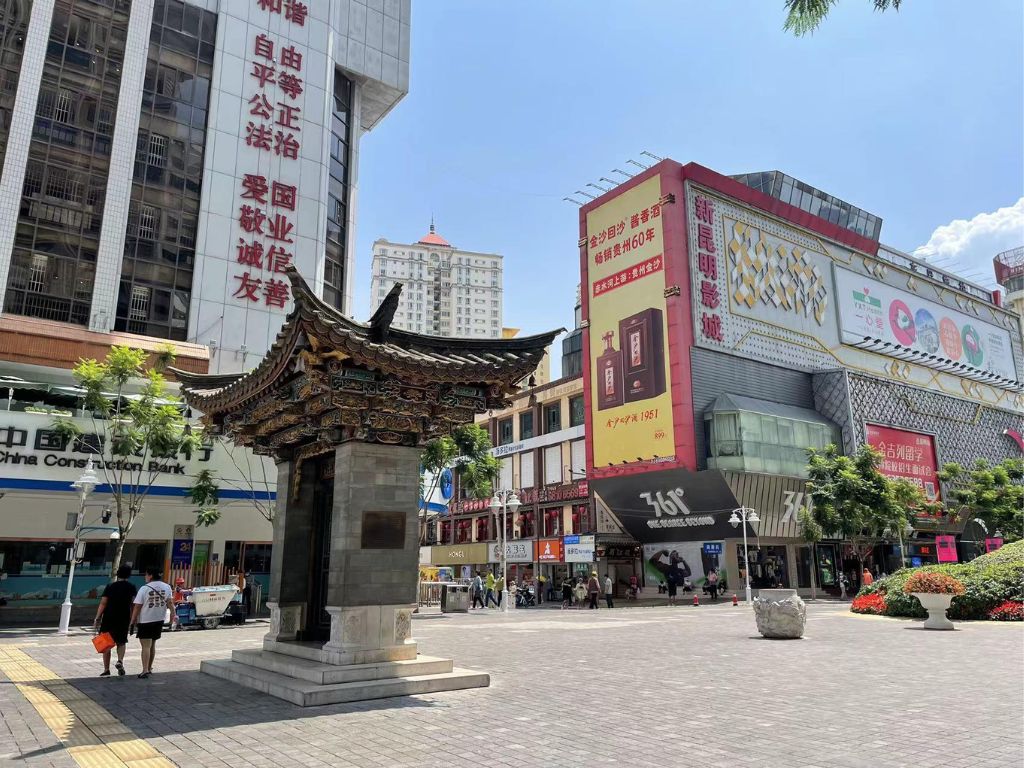 南屏步行街
早餐后,游览昆明地标金马碧鸡坊,之后前往南屏步行街自由购物。午餐后依约定时间,前往机场搭乘航班返回吉隆坡

Departure
Airline
Price From
Book Now